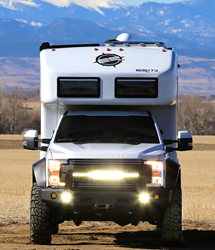 "We took cues from the angular look of the new Ford F-550 to inspire the design of our new front bumper and fender flares, to create a cohesive look for the 2017 XV-LTS." – Tyler Tatro, President & COO of EarthRoamer
(PRWEB) February 02, 2017
EarthRoamer, the global leader in expedition vehicle engineering, manufacturing and design, is known for its commitment to building the most capable, luxurious, and innovative overland vehicles in the world. Living up to its reputation, EarthRoamer has once again pushed the envelope of innovation by introducing the new 2017 XV-LTS. This newest edition of the best-selling XV-LT line is built on the fully redesigned Ford F-550 and features a host of new upgrades from Ford and EarthRoamer.
The 2017 EarthRoamer XV-LTS is loaded with new features. Starting with the biggest upgrade, Ford has completely redesigned its Super Duty truck line for 2017. Taking cues from the best-selling F-150, the new Super Duty is constructed with a high-strength, military grade, aluminum alloy body. Accompanying the new body is an all-new high-strength steel frame. Together, the new body and frame reduce overall weight while increasing strength and rigidity. Other improvements include a powertrain delivering 330 horsepower and 750 foot pounds of torque to the tires, an upgraded driveline that supports a higher maximum Gross Combination Weight Rating and larger, more powerful brakes.
Not to be outdone, EarthRoamer added an array of new upgrades to the 2017 XV-LTS. A completely redone front-end includes a new bumper with an integrated 40" curved LED light bar, all new off-road lighting package and new fender flares. Along with the new front-end, a new EarthRoamer gauge cluster and control panel fit seamlessly into the redesigned center console of the 2017 F-550.
"We took cues from the angular look of the new Ford F-550 to inspire the design of our new front bumper and fender flares, to create a cohesive look for the 2017 EarthRoamer." – Tyler Tatro, President & COO of EarthRoamer
The first 2017 EarthRoamer XV-LTS rolled off the production line this week. Visit http://www.earthroamer.com for more information and how to order.
Since 1998, EarthRoamer has been redefining luxury camping and overland travel with its solar powered four wheel drive expedition vehicles. Handcrafted at the base of the Rocky Mountains, each vehicle is built custom to order by our team of expert craftsmen.