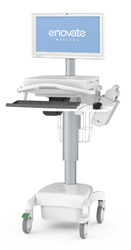 "R7.0 All-In-One computer, a medical-grade computer designed specifically for clinical settings."
Murfreesboro, TN 37129 (PRWEB) February 01, 2017
Even as electronic health records (EHR) evolve in their use and acceptance as an essential part of a patient's care, many nurses and physicians continue to use consumer-grade computers in critical clinical settings. This puts both the patient and the clinician at a disadvantage when communication concerning prior treatment and cooperation between providers is essential. To ensure continuity of care, Enovate Medical has introduced the R7.0 All-In-One computer, a medical-grade computer designed specifically for clinical settings.
Enovates's R7.0 All-In-One keeps nurses online and with constant access to vital patient information throughout their shifts. The latest Intel® Skylake processor sips power, delivering longer battery life. In addition, the design of this processor including its solid-state drive and absence of a fan, means no moving parts to waste battery power, as well as greater mobility for its users and a quieter computer while patients are trying to rest. The HD 22" display makes real-time charting at the bedside easier and the integrated LEDs in the bottom bezel offer ideal lighting for the work surface when the lights in a patient's room are off. Enovate's R7.0 All-In-One is perfect in both function and design for any clinical environment.
The All-In-One Computer is mobile, efficient, and dedicated to clinical applications:

MEDICAL-GRADE QUALITY: Designed for dependability in a rugged mobile application.
UL 60601-1 LISTED: Meets the requirements for use in a patient care environment.
SOLID-STATE DRIVE: Extended battery run times for less workflow interruption.
FANLESS DESIGN: Ultra low decibel rating for higher patient satisfaction.
IP65 PROTECTION: Sealed design simplifies infection control procedures.
All-In-One Specifications:

Intel® Core™ i5 Processor
128 GB mSATA Solid-State Drive
Intel Dual Band Wireless/Bluetooth
TPM Security
Capacitive Touchscreen (optional)
Integrated RFID Badge Reader (optional)
Integrated Smart Card Reader (optional)
ABOUT ENOVATE MEDICAL
Enovate Medical is a solutions provider for acute care hospitals delivering innovative EHR workstation solutions and services that improve clinical workflows and facilitate real-time charting at the point of care. Enovate Medical's specialty-focused approach enables healthcare facilities to advance the highest standards of patient care.
Thousands of providers rely on Enovate Medical's solutions to enhance nurse workflows, improve patient care, and deliver on the promise of today's electronic medical record systems.
For more information, contact Kevin Bridges, VP of Marketing & Business Development, at 888 909 8906; ext 167