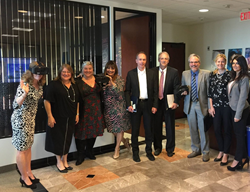 San Diego, CA (PRWEB) February 01, 2017
AM Strategies was hired after an account review and pitch from several marketing companies. They are accountable for the entire PLCU marketing account, creating lasting relationships with members and continuing to build a recognizable San Diego brand.
AMS was chosen in large part because of their craftsmen style of marketing and their understanding of new marketing innovations like Machine Learning that builds profiles of your website visitors, GeoFencing that pinpoints targeted events, competition and your best customers, Real Time Bidding that creates efficient online buys, Behavioral Email Drip Campaigns that drive sales, build trust and deliver value to customers, and Email Marketing Automation that is personalized when triggered by customer behavior.
"What PLCU offers compared to its competitors gives them a significant edge," says Advanced Marketing Strategies President, Kathy Cunningham, "they are also very active in not-for-profit causes and have a strong connection with the San Diego community. We are extremely happy to be collaborating with them and look forward to bringing new innovations for 2017 like Virtual Reality, 360 Videos, Facebook Live, Device ID Targeting, and Multi-device Ad Syncing to the table."
David R. Brooke, PLCU President/CEO says, "We were looking for fresh ideas and new ways to improve our omnichannel customer experience. We hired Advanced Marketing Strategies because of their digital, branding and financial background. So far their 3-D Process has uncovered information that we can use right away. I think AMS is the right agency to take us to the next level."
Peter S. Butler, PLCU Senior Vice President, Operations/Chief Operating Officer has nothing but good things to say, "Every interaction I have had so far with Kathy and her team has been very positive. They have invested a lot of time getting to know the organization and our commitment to the communities we serve. They are responsive, bring a deep knowledge of marketing strategy, and have already helped us launch our social media campaign using their Inbound Marketing Process."
ABOUT POINT LOMA CREDIT UNION: PLCU offers a complete selection of financial products and services including savings and checking accounts, loans, credit cards, the Visa Check Card, PLCU Online, Bill Pay Online and more.
PLCU is a member-owned financial institution with assets approaching $450 million with 6 branches as well as service centers throughout the United States.
The credit union first opened its doors in 1948 to serve the employees of the Naval Electronics Laboratory (NEL), who wanted a safe place to save and to go for loans. Since 1948, the field of membership has expanded and now includes everyone who lives, works or worships in San Diego and Riverside Counties and members of their families. Today, PLCU is proud to serve a community of nearly 40,000 members. Learn more about PLCU by visiting: plcu.com
ABOUT AM STRATEGIES: Incorporated in 1991, Advanced Marketing Strategies is proud to have provided twenty-five years of strategy based, result oriented marketing solutions that have increasing traffic, sales, and profits for large consumer clients. Over the years we have developed Spanish campaigns for IKEA, Mossy Automotive, Soboba Casino, Quechan Casino Resort, Multicultural Independent Physicians' Association, and others.
Learn more about AM Strategies by visiting http://www.am-strategies.com/
Contact:
8910 University Center Lane, Suite 620, San Diego, CA 92122
Contact: Kathleen Cunningham
Founder and President
(858) 490-6910