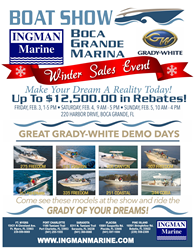 When you want the best, visit our showroom at Ingman Marine - Gary Ingman
(PRWEB) February 02, 2017
The boat show will be taking place at the Boca Grande Marina on February 3rd through the 5th. The marina is located at 220 Harbor Drive Boca Grande, Florida 33921. Additionally, $12,500 in rebates are being offered. The dates and hours are listed below.
Schedule:
Friday, February 3rd 1pm-5pm
Saturday, February 4th 9am-5pm
Sunday, February 5th 10am-4pm
Boat Models On Display
Boat buyers will be interested in travelling to The Boca Grande Marina to demo seven 2017 models. Additionally the 2017 344 Cobia will be on display. Here are the boat models available to demo:
Freedom 275:
This 27 foot dual console ship travels at up to 500 HP with a 184 gallon fuel tank. The bow offers seating along with a 96 quart insulated fish box. The helm and companion seating comes standard, accompanied with a fold away aft bench seat.
Canyon 376:
This center console measures in at 37 feet in length. With a 390 gallon fuel capacity comes a max horsepower of 1050, along with two 263 quart insulated fish boxes and a 41 gallon live-well. There is also a lockable center cabin that features: the head, a stand up shower, bulk storage, double berth and an entertainment area (60 square feet).
Canyon 306:
This 30 feet center console comes standard with a lockable cabin with a shower, head, sink and other storage areas. Maxing out at 700 HP, the fuel capacity is about 290 gallons. The bow features two 150 quart insulated fish boxes. The center console comes with a full height, windshield fitted with a t-top and flush mount electronic area. The standard rigging station comes with a freshwater sink and 47 gallon live-well.
Freedom 307:
This 30 foot dual console maxes out at 700 HP, partnered with a 235 gallon fuel tank. The bow seating area features contains a 150 quart insulated fish box beneath the cushions. At the helm sits an adjustable bench seat and the aft is equipped with a fold away bench seat. A bar comes standard with a stainless steel sink and corian top. Optional features include the choice of a grill or small fridge. Along with bulk storage area comes an extendable port lounge seat.
Fisherman 257:
Standing at 25 feet in length, this center console features an enclosed and lockable heard area within the console. With a 135 gallon fuel tank comes a max horsepower of 400. A 32 gallon live-well accompanies two 120 quart insulated fish boxes. The swim platform with boarding ladder sits next to the fold away aft bench seat.
Freedom 335:
Maxing out at 900 HP, this 33 foot dual console has a 293 gallon fuel capacity. The seating is offered on the bow, including an adjustable center table. The port console cabin houses the bed, TV and entertainment system, closet and bulk storage. In addition the starboard cabin consists of the head, sink, shower, with extra storage space. Along with the 32 gallon live-well come 2 additional insulated boxes at 166 quarts and 230 quarts. A bar also comes standard with this model.
251 CE:
The only coastal explorer on the list for this show measures in at 25 feet. The max horsepower for this model is 300, coupled with a 78 gallon fuel capacity. Both port and starboard sides come with insulated fish boxes with cushions and folding backrests. On either side of the ship sits 3 vertical rod storage holders. The helm lean bar comes with a removable backrest. A molded forward console seat offers more seating as well. Under the helm lean bar is a removable 72 quart cooler.
Cobia 344 CC:
The only Cobia boat available for demo at this event is the 34 foot center console. This ship has a maximum horsepower of 900 with a 320 gallon fuel tank. The bow offers an 8 piece seating cushion set, standard. A walk down console offer the head, berth and hidden lockable rod storage. In the cockpit is located two 62 gallon insulated fish boxes. A standard tackle station offers a sink and rigging area.
About Ingman Marine
Ingman Marine has 5 locations located in the Boca Grande area. The closest boat dealership to the boat show is located in Placida. The other locations are located in Bokeelia (Pine Island), Port Charlotte, Sarasota and a new dealership that opened in North Fort Myers. With over 37 years of experience. Ingman is family-owned and operated. Ingman Marine has gained numerous awards from many of the industry's boat and boat motor dealerships for our outstanding sales accomplishments and customer service standards. They are a 5-Star certified Yamaha Dealer. Ingman Marine works with The Habitat for Humanity, The Charlotte County Homeless Coalition and The Charlotte Chapter of the Coastal Conservation Association (CCA).
Ingman Marine Contact Information:
PORT CHARLOTTE
1189 Tamiami Trail
Port Charlotte, FL 33953
Phone: (941) 255-1555
SARASOTA
8311 N. Tamiami Trail
Sarasota, FL 34238
Phone: (941) 360-0088
PLACIDA
15001 Gasparilla Rd.
Placida, FL 33946
Phone: (941) 697-1000
PINE ISLAND
16501 Stringfellow Rd.
Bokeelia, FL 33922
Phone: (941) 255-0985
NORTH FT MYERS
14531 North Cleveland Ave.
North Ft Myers, FL 33903
Phone: (239) 599-9069