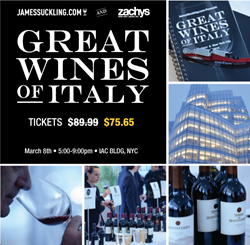 Here's your chance to meet and mingle with some of Italy's most sought-after wineries and taste fantastic wines… a truly invaluable experience. - Zachys' Andrew McMurray
White Plains, NY (PRWEB) February 01, 2017
JamesSuckling.com and Zachys Wine & Liquor are proud to present the 2017 edition of Great Wines of Italy NYC on Wednesday, March 8, 2017. Returning to New York City's state-of-the-art IAC Building, this unique walk-around wine tasting will showcase over 115 of the region's most sought-after producers and premium boutique wineries. Each producer will be showing their top two wines, all of which were selected by wine critic James Suckling and rated 90 points or more. Wines rated 90 points or more by James Suckling are considered outstanding and an outstanding purchase. The event will feature 40+ wines given 95 points or more, which is considered a "must buy."
Great Wines of Italy New York City gives oenophiles the opportunity to taste and learn directly from the winemakers themselves. Highlight vintages this year include: the new to the market 2012 Brunello di Montalcino, coined a "rockstar" vintage from Suckling, as well as 2013 Super Tuscans.
"Great Wines of Italy is the biggest Italian wine tasting event of the year! With all the wines rated 90 points or higher by James Suckling, it is certainly a "who's who" event," remarks Zachys Vice President Andrew McMurray. "Producers will be showcasing new releases, as well as wines not yet available in the market. Wines will span all of Italy, including Montalcino, Morellino, Bolgheri, Friuli, Apulia, Sicily, Chianti, the list goes on! Here's your chance to meet and mingle with some of Italy's most sought-after wineries and taste some fantastic wines… a truly invaluable experience."
This fun, educational setting will also feature an elaborate cheese/meat selection from Abigail Kirsch and music from singer/songwriter Surahn Sidhu. Great wines, cool vibe, music and fun, all guided by James Suckling! Event attendees will have access to purchase the 200+ wines tasted through Zachys, at a discounted price. This is an unrivaled "try before you buy" opportunity!
Great Wines of Italy is also scheduled in Miami (March 6), Beverly Hills (March 10) and San Francisco (March 11).
Date/Time:
Wednesday, March 8, 2017 at 5:00pm-9:00pm ET
IAC Building – 555 W. 18th Street, New York, NY 10011
Ticket Pricing:

Early Bird General Admission - $89 (Special Early Bird Special valid through February 8)
General Admission - $99
100 Points Ticket - $150 (Includes a keepsake Lalique 100 points universal tasting class designed by James Suckling)
Visit http://www.zachys.com/GWOI for additional information, a list of wines and to purchase tickets.
Featured Producers and Regions:
Tuscany: Altesino, Andretta & Vitanza, Argiano, Banfi, Bellaria, Bibi Graetz, Boscarelli, Brancaia, Caparzo, Casanova di Neri, Chioccioli Altadonna, Cantalici, Cascina Bruni, Castelli del Grevepesa, Castello di Bossi, Castello di Gabbiano, Castello di Meleto, Castello di Monsanto, Castello Romitorio, Castiglion del Bosco, Ceralti, Ciacci Piccolomini D'Aragona, Colle Bereto, Collosorbo, Eredi Fuligni, Fabrizio Dionisio, Fattoria di Magliano, Fattoria Le Pupille, Frescobaldi, Gagliole, Grattamacco Collemassari, Il Borro, Il Bosco di Grazia, La Lecciaia, La Rasina, Lamole di Lamole, Le Filigare, Livio Sassetti, Luce della Vite, Marchesi Antinori, Mazzei, Monte Antico, Monteverro, Orma, Ornellaia, Petra, Petrolo, Piazzano, Podernuovo a Palazzone, Poggio al Tesoro, Poggio la Noce, Principe Corsini, Querciabella, Renieri, San Fabiano Calcinaia, San Filippo, San Polino, Sette Ponti, Siro Pacenti, Tassi, Tenimenti d'Alessandro, Tenute del Cerro – La Poderina, Valdicava, Vecchie Terre di Montefili, Viticcio, Zonin-Castello di Abola
Piedmont: Poderi Aldo Conterno, Bruno Giacosa, Ca' Romé di Romano Marengo, Cascina Bruni, Cordero di Montezemolo, Fontanafredda, Giovanni Sordo, Marchesi di Barolo, Mauro Molino, Negretti, Paolo Conterno, Parusso, Pio Cesare, Prunotto, Renato Ratti, Rocche dei Manzoni
Veneto: Allegrini, Fossa Mala, Il Pollenza, Masi, Pieropan, Prà, Tommasi
Friuli-Venezia: Jermann, Schiopetto, Vie di Romans
Umbria: Barberani, Falesco, Vitalonga
Lombardy: Bellavista, Ca' del Bosco
Lazio: Casale del Giglio, Tenuta di Fiorano
Puglia: Conti Zecca, Tormaresca
Sicily: Cusumano, Feudo Maccari, Pietro Carciogna, Tornatore, Zisola
Campania: Donnachiara, Vinosia
Alto Adige/Trento: Nals Margreid, Franz Haas
Marche: Umani Ronchi
About Zachys Wine & Liquor: Founded in 1944 by Zachy Zacharia, Zachys Wine and Liquor thrived for a generation as a highly popular Scarsdale, N.Y. store known for fine wine. In the 1960s, the enthusiasm of Zachy's son, Don, converted the business into a dynamic venture that led the way in exposing consumers across America to the great houses of Bordeaux and Burgundy, cultivating the acceptance of the finest Italian wines, and promoting the best California growers as they gradually developed into industry giants. Zachys is known throughout the world for having an exceptionally knowledgeable staff and for maintaining the highest level of customer service.