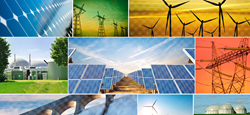 Open but integrated and robust approach to DER management in the modernized grid
(PRWEB UK) 1 February 2017
The goals of the project are to deploy smart inverter controls and scalable distributed, adaptive control techniques to give transmission operators power and voltage control of load buses; ease the integration of Distributed Energy Resources (DER) into legacy operational systems through distribution feeder aggregated service control; and facilitate DER transactions in retail and wholesale markets. The wider impacts are delivery of enhanced value for consumers, reduced electricity cost, and enhanced reliability.
"SGS is delighted to work with this excellent team to demonstrate an open but integrated and robust approach to DER management in the modernized grid", Dr. Graham Ault, Executive Director of Smarter Grid Solutions said.
A key innovative aspect of the project is the direct hosting of open source DER control algorithms onto the SGS ANM Strata Active Network Management (ANM) platform. This demonstrates the third party development and rapid adoption of advanced control techniques onto ruggedized, mature DER control platforms.
Dr. Chad Abbey, Vice President Power Systems at Smarter Grid Solutions added: "Demonstrating the business case for utilities and customers of these new technologies is an essential prerequisite for much greater capacity and value from DER".