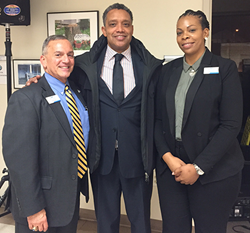 (PRWEB) February 01, 2017
Andrews Federal Credit Union's Jasmine Lyle, Henson Ridge Branch Manager, recently served as a panelist for DC Attorney General Karl Racine's Financial Literacy Panel. Other panelists included: Michelle Hammonds, Bank on DC Program, DC Department of Insurance, Securities and Banking, Cherelle Hood-Silue, Financial Well-Being Coach, Operations Hope, and Stephen C. Taylor, Commissioner Department of Insurance, Securities and Banking.
The event, held at Petey Greene UPO Community Center in Ward 8, featured financial experts from the DC government, the private sector, and non-profit organizations who shared advice on how to understand your finances, avoid financial scams and pitfalls, and protect your money.
"This was a wonderful opportunity to meet with local residents and answer many of their questions of how to build their financial wellness," said Lyle. "Financial literacy is essential to helping individuals understand and manage their financial matters on their own."
About Andrews Federal Credit Union
Andrews Federal Credit Union was founded in 1948 to serve the needs of military and civilian personnel by providing a vast array of financial products and services. With over $1.4 billion in assets, Andrews Federal has grown to serve more than 119,000 members in the District of Columbia, Joint Base Andrews (MD), Springfield, Virginia (VA), Joint Base McGuire-Dix-Lakehurst (NJ), and military installations in central Germany, Belgium, and the Netherlands. In addition, the Credit Union serves as a financial partner with many select employee groups in Maryland, the District of Columbia, Virginia and New Jersey.
To learn more about Andrews Federal Credit Union and its community involvement, or to become a member, call 800.487.5500 or visit http://www.andrewsfcu.org.