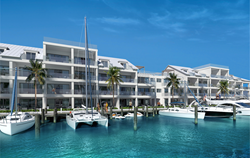 Americans seeking an alternative home are favouring The Bahamas in increasing numbers
(PRWEB) February 03, 2017
While many US citizens may be adopting a 'let's wait and see' stance with the Trump administration, a significantly growing number are deciding to do their waiting and seeing outside the nation's boundaries. According to David Lambert of Palm Cay, Bahamas, online searches for information on making a life outside the USA have spiked dramatically since November's election result. Indeed, as far back as 'Super Tuesday', Google recorded the then highest-ever incidence of searches based on the phrase 'move to Canada'. Traffic volume to Canada's immigration and citizenship website was similarly unprecedented.
So if you were considering making a move to foreign shores, where would you think of first? Clearly, quite a few Americans see their future to the north in Canada; some are inclined to Australia or New Zealand; Europe is also a favoured destination. But there again, the proximity and out-and-out beauty of The Bahamas are also catching the eyes of US nationals on the move.
Many Americans will know the Bahamian islands in terms of sun, sea, and laid-back lifestyle from vacation visits. What's less well-known is that The Bahamas are also an attractive option in hard-headed practical terms.
Low levels of taxation are of course a Bahamian specialty; in fact there is no income tax. The residency requirements are simple and straightforward, with annual and permanent options available. Anyone who can support themselves without working is welcome; for permanent residency a property in The Bahamas worth $500,000 or more must be bought and maintained. However, many people owning homes are not permanent residents – simply being able to visit for up to three months at a time suits their needs.
Against this backdrop our own resort of Palm Cay reveals an unsurprising new trend. We've seen an increase in vacation traffic that's mirrored by subsequent property sales – Americans are essentially trying out the resort lifestyle, falling in love with it, and then choosing to buy their own Bahamian property. Naturally, this also comes with the benefits of owning a holiday home, the property investment, and strong rental income.
Palm Cay launched its high-end condominium development, One Marina, in December 2016 and sales were immediate, with a high volume of traffic coming from US inquiries.
Canada's fairly restrictive residency requirements - and those of other potential destinations – contrast with those of The Bahamas. The islands are a short flight from the US, the attractive tax situation, the climate, the easy lifestyle – it's hardly surprising that Americans seeking an alternative home are favoring The Bahamas in increasing numbers.