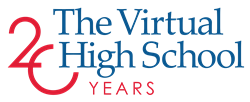 One of the many benefits of our courses is that they provide a classroom experience that reflects the world that students will know beyond high school.
Boston, MA (PRWEB) February 01, 2017
Online classrooms are effective tools for delivering rigorous instruction, complex ideas and even organizing student lab work. That's the finding of the latest survey of schools working with The Virtual High School (VHS, Inc.), a nonprofit empowering schools with the industry's best online learning programs. The VHS online learning model has proven so successful that 66 percent of VHS students sitting for AP® exams passed with a score of 3 or higher in 2016, exceeding the national average of 60.4 percent.
One noteworthy example is AP® Environmental Science, which involves an independent research project as well as the use of laboratory materials and equipment. VHS students' pass rate (a score of 3 or higher) for the related AP® exam was 76.3 percent while the national average was 46 percent. Another example is AP® European History, which includes activities such as debates and role-playing through student audio recordings as well as participation in research groups using Web 2.0 information tools. That course had a pass rate of 73.7 percent compared to the national average of 54 percent. But the most significant pass gate was in AP® English Literature and Composition, which involves an independent summer assignment and had a pass rate of 90.9 percent, well above the national average of 45 percent.
"AP® Environmental Science employs a hands on lab kit, as well as the same digital tools and data sets that scientists use, to engage students in meaningful lab experiences, supporting the development of key science practices," said Kim Spangenberg, Associate Dean of STEM at The Virtual High School. "Students follow instructions in thoughtfully-designed investigations and work independently to successfully complete their labwork, and our AP® exam results show that this approach works. "
VHS is home to one of the largest catalogs of online AP® courses, with 23 AP® offerings. Students taking VHS AP® courses connect with other students across the country and around the world in a collaborative learning environment. Throughout their studies, students from diverse backgrounds share their thoughts, experiences and opinions with peers. In addition to the hands-on lab work for science courses, VHS AP® courses offer a variety of resources for students to explore including vibrant class discussions and intriguing projects.
The VHS course catalog consists of more than 200 unique online courses. The 2016 survey of VHS participants also found a 97 percent retention rate of VHS members in the 2015-16 school year (up from 93 percent in the previous year), indicating strong educator and student satisfaction with the quality of instruction being delivered.
"One of the many benefits of our courses is that they provide a classroom experience that reflects the world that students will know beyond high school," said Carol Ribeiro, President & CEO of VHS. "In addition to critical thinking and analytical skills, our students develop respect for different ideas, cultures and opinions because they are learning in a global classroom environment. Our online classrooms contain students from a variety of backgrounds who learn with, and from, one another and their teachers. This approach has proven results and offers students a comprehensive education that prepares them to be successful in a global society."
About The Virtual High School
The Virtual High School (VHS, Inc.) is an online learning pioneer. Since 1996, the nonprofit organization has set the standard for quality online education. VHS provides middle and high school online courses for students and professional development for educators. The organization also meets the unique educational needs of schools through custom course development, individualized course offerings, and support for blended learning initiatives. VHS design and delivery standards are the model used by the National Education Association in their recommended standards for online learning. The organization has won numerous awards, including the Stockholm Challenge Award for Global Excellence in Information Technology and is a three-time winner of the United States Distance Learning Association's (USDLA) award for Excellence in Programming and Excellence in Best Practices. For more information, visit http://www.VHSlearning.org or call (978) 897-1900.
# # #