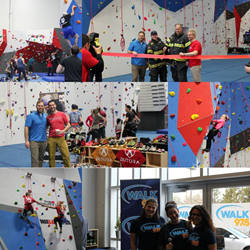 Melville, N.Y. (PRWEB) February 02, 2017
The fast growing rock climbing gym franchise, The Gravity Vault has found a new home on Long Island, with the opening of its newest location in the town of Melville, N.Y. After months of planning and construction, the facility celebrated its Grand Opening last Saturday Jan. 28. The community welcomed the gym with open arms making the event a full house.
The day began with a ribbon cutting ceremony executed by the Melville Fire Department and the gym owners, Lucas Kovalcik and Tim Walsh. After, patrons young and old, new to rock climbing, as well as experienced climbers, poured into the 20,000 square foot gym for a day of free climbing with instructions and climbing demonstrations available. Respectable rock climbing brands like Scarpa, Black Diamond, Butora, and Evolv were on site with merchandise and shoe demonstrations. Special guests also included the radio station, WALK 97.5​​ who was onsite with prizes and giveaways.
"The climber and overall community support for our operation has been overwhelming! We are excited to have had thousands of people through our doors already and are thrilled to be in Melville and sharing the sport of climbing with everyone on Long Island!" said owner Lucas Kovalcik.
The Gravity Vault Indoor Rock Gym​ founded by Lucas Kovalcik and Tim Walsh, has rapidly expanded throughout New Jersey and New York over the past 12 years. The Gravity Vault has achieved recognition with their inclusive programming options that include memberships, private climbing sessions, birthday parties, camps, competitive climbing teams, belay classes and more.
The Gravity Vault owes their fast development to the addition of franchising options. Currently construction is underway for the Gravity Vaults first Pennsylvania location that is set to open next month. Continuing their efforts to bring the sport of rock climbing to local communities everywhere, The Gravity Vault is working to open facilities in states spanning the east coast.