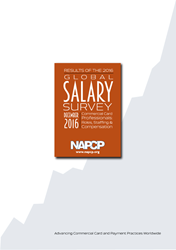 When compared to data from previous salary survey results, the 2016 results show that women in the Commercial Card and and Payment industry have made far fewer gains in six years than their male counterparts.
Wayzata, Minnesota (PRWEB) February 01, 2017
The NAPCP has released the results of its 2016 Global Salary Survey conducted in May and June 2016, delivering insight into the Commercial Card industry's roles, compensation and staffing trends. This is the sixth edition of its kind (similar surveys were conducted every three years since 2001). As in 2013, this edition targeted Purchasing Card end-users—those who fulfill a job role related to a P-Card (or One Card) program, end-users who fulfill a Corporate Travel Card role and those who fulfill a relationship or account manager role for a provider organization. For the first time, the survey included questions for those end-users who fulfill an Electronic Payments (ePayables) role. Further segmentation by geography was included for the United States, Canada and other countries.
The report's Executive Summary and a complete Table of Contents are available to all NAPCP members and subscribers. The full survey results report is included in NAPCP membership.
For an interactive look into the survey results, join the NAPCP for a live webinar on Wednesday, Feb, 15, 2017.
Although the average salary for Program Managers (PMs) and Program Administrators (PAs) in the Commercial Card and Payment industry rose significantly in 2013, the increases are much more modest in 2016. Overall, in 2016 the average U.S. PM salary is 2.6% higher than in 2013. For U.S. PAs, the average 2016 salary is 5.8% higher. As a comparison, the average salaries reported in 2013 compared to 2010 indicated a 14% increase for PMs and a 9% increase for PAs. In Canada, the average salary of a PA decreased by 9% from 2013.
"When looking at salaries by sector, corporations lead the way with the highest salaries for both positions," said Terri Brustad, CPCP, Manager of Content Services, and author of the report. "In addition, results indicate that P-Card/One Card PM/PA who also manages a separate Travel Card program, likely have a distinct salary advantage over those who manage P-Cards/One Cards only."
Salary Disparities Between Genders
On average, males experienced a greater salary increase between 2013 and 2016 than women, at 12.2% versus 5.9%. In addition, males earn 30% more, on average, than females.
"When compared to data from the 2010 salary survey, the 2016 results show that women have made far fewer gains in six years than their male counterparts," said Diane McGuire, CPCP, Managing Director. "In 2010, the average salary for a man was $5,600 more than the current average salary for a woman. The Commercial Card and Payment industry is not unlike other industries where the gender wage gap has yet to be addressed. Does the disparity reflect a gender bias or management commitment? The caliber and experience of personnel put in place to manage these programs continues to be the distinguishing factor between successful programs and those that fail to reap results. By adding the NAPCP's data to the national conversation, the NAPCP can take an active role in fixing the disparity."
Hiring Qualifications
The top three required qualifications when hiring a P-Card/One Card PM/PA are prior Commercial Card program management experience, bachelor's degree and Commercial Card and Payment industry knowledge. In comparison to the 2013 results, card program management experience continued to have the largest jump. For those who said it would be required, the percentage increased from 35% in 2010, to 49% in 2013 and now to 58% in 2016.
Industry certification continues to be an indicator of earning potential within the industry. The NAPCP's ten-year-old Certified Purchasing Card Professional (CPCP) credential continues to gain momentum. The average U.S. CPCP salary is approximately 9% higher than the average non-CPCP salary. The number of PM respondents who achieved the credential have increased from 25% in 2013 to 37% in 2016.
ePayables Program Management
Of the ePayables respondents, 94% have a role in their P Card/One Card program; 44% have a role in Travel Cards. Not surprising, considering the low maintenance requirements of this program, 78% spend less than 25% of their time on ePayables. What is surprising, however, is that despite the fewer staff hours required for maintenance, ePayables spend is comparatively low.
About the NAPCP
The NAPCP is a membership-based professional association committed to advancing Commercial Card and Payment professionals and industry practices worldwide. Serving a community of more than 19,000, the NAPCP is a respected voice in the industry and an impartial resource for professionals at all experience levels in the public and private sectors.