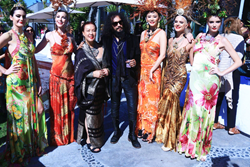 "I envision the SUE WONG brand of International Hotels to carry my usual panache of signature haute style and glamour..."
(PRWEB) February 02, 2017
The celebration announced the genesis of the SUE WONG brand of international Boutique Hotels.
"I am very excited and pleased to announce the new franchise of SUE WONG Boutique Hotels. I envision the SUE WONG brand of International Hotels to carry my usual panache of signature haute style and glamour, while offering a sense of relaxation and renewal to upscale international guests. Dana Blanchard is an experienced hotel developer who has a track record of 24 hotel projects behind him and will be working with me as an advisor on my projects. The new hotel franchise is based on the paradigm of my three homes representing Body, Mind and Spirit," said the critically acclaimed designer.
Coined as "Every Woman's Couturière," Sue Wong expressed how she has many dreams yet to manifest. Being the quintessential Phoenix, she now finds herself poised on a threshold she calls her Third Phoenix Rising. The next most vibrant and exciting Third Chapter is the culmination of a stellar career, the embodiment of her well-respected, much loved epiphanous label of magnificent evening gowns and cocktail dresses, SUE WONG.
In addition to delivering a vision for the future of her brand, Sue Wong gave an impromptu retrospective Fashion Show with stunning looks culled from the SUE WONG archives worn by guest models Eugenia Kuzmina and Ava Capra of America's Next Top Model, who channeled glamour goddesses on the outdoor runway. Stunning headpieces by Maritzia Regalado of Atzi Designs and the couture jewelry of PK Bijoux complimented the gorgeous gowns. Hair and Makeup was provided by Reyna Kalil, Luis Martinez and Carlos Zapata. D'Jesus Trujillo provided model casting and coaching.
Luminaries and esteemed celebrity guests who attended the event included renown actress Jane Seymour, Alice Amter of the Big Bang Theory, actor/musician Ronn Moss (The Bold And The Beautiful) actresses Kate Linder and Jacqueline Murphy, Chris Pitman (Guns 'N Roses), actor John Blyth Barrymore, Latin actress Maria Conchito Alonso, iconic FOX News anchor Christine Devine, Sandro Monetti of CNN, actor Paul Michael Glaser of Starsky and Hutch, and Entertainment mogul, Larry Namer.
The outstanding musical performances from stellar artists included vocalists Maria Elena Infantino, Melissa Lee Diehl, Jayme Claire, Shannan Rene Parks, Brit rocker Steve Cooke, avante-garde bassist Dordje Stijepovic, the incomparable John Walsh, aka Jawn Star and the uniquely talented Imran Raza of Sonic Astanga, who brought his troupe of wonderful musicians to perform.
Sue has taken Fashion into never-before-seen heights of couture excellence in the commercial arena. Her ground-breaking acumen and high excellence in the pantheon of design affords her the luxury in applying her collective artistic sensibilities to multiple genres. She continues to be the proven Alchemist, expanding her artistic canvas into licensing modalities for Fashion, Home, Lifestyle and Interiors. Sue's core Fashion signature style of haute glamour and romantic vintage aesthetics embodies an odyssey of seduction, sensuality, and femininity that invokes and awakens the Goddess within each woman.
Noted sponsors for the event include Purple Haze Liqueur, Hollywood Burger, Rejirderlig Cider, Sol and Luna, Burgerim, and Aqua Carpatica.
ABOUT SUE WONG
World renowned fashion designer Sue Wong is known for dazzling fashionistas with her couture-inspired glamorous signature style, combining the allure and elegance of iconic bygone eras with a modern sensibility to create timeless works of art. Distinguished by the impeccable quality of traditional couture dress making, her designs are steeped in romance and mystery while being thoroughly modern and accessible. She has dressed countless celebrities including Anne Hathaway, Jessica Biel, Minnie Driver and Taylor Swift.