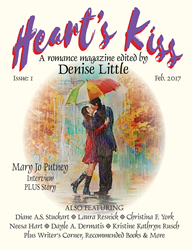 Heart's Kiss was launched on February 1, just in time for Valentine's Day
Rockville, MD (PRWEB) February 02, 2017
The romance genre is not known for magazines, but one publisher believes that there is a market for it. Arc Manor Publishers (who launched a science fiction and fantasy magazine four years ago) is launching a new magazine devoted to the genre.
Heart's Kiss was launched on February 1, just in time for Valentine's Day (gift subscription, anyone?) with the inaugural issue of the magazine showcasing an interesting mix of writers. There is a story and interview by bestselling author Mary Jo Putney (Rogues Redeemed series), and the rest of the author line-up includes veterans Christina F. York, Diane A.S. Stuckart, Dayle A. Dermatis, Laura Resnick and Kristine Kathryn Rusch, as well as newcomers Casey Chapel and Petronella Glover.
While most of the content is fictional, Heart's Kiss includes some interesting non-fictional tit-bits, including a 'tour' of Chatsworth House in England, which has been featured in multiple romance television series and movies (including the 2005 adaptation of Pride and Prejudice). The magazine also includes advice columns for new writers and reviews of recent books published in the genre.
Heart's Kiss magazine will be published every two months and each issue will be free to read on the online website (http://www.heartskiss.com) until a new issue comes out. The ebook edition is available in Mobi (Kindle) and EPub (Nook, Kobo, iTunes) formats, and can be bought at various online retail outlets as well as the directly from the publisher. The paper edition can be purchased at Amazon and Barnes & Noble, too. Yearly digital and paper subscriptions are offered by the publisher on the website, with significant discounts, particularly for the digital edition.