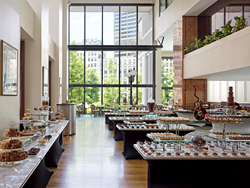 Boston, MA (PRWEB) February 02, 2017
Chocolate lovers rejoice! The Langham, Boston is partnering with the iconic Museum of Science to celebrate the newly launched Chocolate: The Exhibition with a weekend filled with delicious treats and a visit to the Museum to explore the plant, the products, and the culture of chocolate through the lenses of science, history, and popular culture. This indulgent experience for two will be available beginning February 3rd and include overnight accommodations in one of The Langham, Boston's luxurious guest rooms, a visit to our famous Saturday Chocolate Bar buffet, and tickets to the temporary exhibition at the Museum of Science.
Saturday Chocolate Bar at The Langham, Boston
The Langham, Boston's Saturday Chocolate Bar is celebrating its 28th anniversary with the theme "Captivation of the Senses," which takes guests on a journey through the five senses while enjoying more than 100 chocolate dessert combinations. Executive Chef Mark Sapienza and Executive Pastry Chef Ryan Pike feature chocolate dishes that evoke and inspire Sight, Smell, Sound, Touch and of course, Taste.
The mouth-watering offerings also include a Vegan Station, proving that decadence can be had no matter the diet; a chocolate fountain that invites you to dip fresh fruit, pretzels, marshmallows and more; a Kids Station, featuring cookies, brownies, blondies and Rice Krispies treats; and a Confectionary Station highlighting the candy-making techniques of Chef Ryan and his team.
Chocolate: The Exhibition
On January 29, the Museum of Science unveiled its newest exhibition, Chocolate, exploring every aspect of "the world's perfect food," so described by nutrition researcher Michael Levin. The 5,000-square-foot exhibit examines chocolate's unique place in history, ecology and popular culture. It reveals where chocolate is grown and how it's made, from the most luxurious confections to the mass-produced treats doled out on Halloween. The interactive exhibit delves into chocolate's place in ancient and contemporary societies, its significant economic impact and its starring role in the culinary arts.
Visitors will indulge in more than 200 objects and highly detailed replicas including pre-Columbian ceramics, European silver and porcelain servers, nineteenth and twentieth-century advertising, and botanical representations. These, along with immersive, interactive components and media, reveal the rich history of chocolate around the world. Chocolate and its national tour were developed by The Field Museum, Chicago. This exhibition was supported, in part, by the National Science Foundation. The exhibit will be open through May 7, 2017.
Package rates are nightly and start at $289 based on double occupancy. Stays must include a Friday night. For reservations and more information, please visit http://langhamhotels.com/Boston or call 617.451.1900.
About The Langham, Boston
The Langham, Boston is located at 250 Franklin Street, Boston, MA 02110. This elegant AAA Four Diamond-rated property, once the Federal Reserve Bank, is a national architectural landmark. An ideal downtown location, the hotel offers a unique blend of historic charm and urban sophistication next to the finest shopping and attractions. The hotel's award-winning restaurant, Café Fleuri, serves breakfast, lunch, Saturday Chocolate Bar, and Sunday City Brunch under lofty atrium ceilings. BOND restaurant | lounge serves global cuisine and inventive craft cocktails in the evening. The Reserve serves Afternoon Tea with Wedgwood and inspiring cocktails. Chuan Body + Soul spa, offers a 24 hour fitness center, indoor lap pool and treatments based on Traditional Chinese Medicine. For information on The Langham, Boston, please visit http://langhamhotels.com/Boston. Follow us on Facebook, Twitter and Instagram.
Media contact for The Langham, Boston: Dinah Saglio; 617.422.5109; Dinah.saglio(at)langhamhotels(dot)com