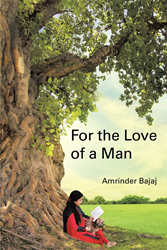 Delhi, India (PRWEB) February 06, 2017
An India-based author and award-winning OB-GYN has released a fictionalized account of her own life, which broaches topics such as female sexuality, romantic and familial relationships and the strength and independence of women. Her compelling novel, titled "For the Love of a Man," tells the story of a woman who dares to live life on her own terms, and when things go horribly awry, unflinchingly pays the price.
Bajaj draws heavily on autobiographical events in "For the Love of a Man," including her time in medical school. Though trained to save lives, ironically, the book's protagonist has no control over her own and is forced into an arranged marriage. After spending years in an unfulfilled marriage, she commits adultery with an unsuitable lover and revels in her sexuality. When this relationship begins to stifle her, she breaks free to discover her own power as a woman.
"By sharing a fictionalized account of my life, I want readers to know that each of us carry our private hell within us," Bajaj said. "How we deal with it determines not only our present and future, but colors memories of our past."
Prior to being published, "For the Love of a Man" was recognized by the Oxford Bookstore with an award and a press conference for having one of the best first chapters of an unpublished novel from among hundreds of applicants. The book will leave readers feeling inspired and ready to embrace their own strength and independence.
"For the Love of a Man"
By Amrinder Bajaj
ISBN: 978-1-524-59353-7 (hardback); 978-1-524-59352-0 (paperback); 978-1-524-59351-3 (electronic)
Available at the Xlibris Online Bookstore, Barnes & Noble and Amazon
About the author
Amrinder Bajaj is a practicing gynecologist and the head of the Department of Obstetrics and Gynecology in a corporate hospital in Delhi, India. Her traditionally published works include two wellness books, a book of poems, a joke book and a memoir. She is mother to two sons, and in her spare time, she enjoys reading, swimming, dancing, photography and traveling. To learn more, visit http://www.amrinderbajaj.com.
###
Review Copies & Interview Requests:
LAVIDGE – Phoenix
Danielle Grobmeier
480-998-2600 x 614
dgrobmeier(at)lavidge(dot)com
General Inquiries:
LAVIDGE – Phoenix
Maggie Driver
480-998-2600 x 584
mdriver(at)lavidge(dot)com