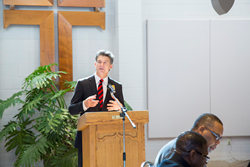 If we just speak our needs into existence, God will respond to our requests. - Mike Roby, ARM executive director
Jackson, Tennessee (PRWEB) February 06, 2017
Area Relief Ministries announced Mike Roby as executive director at a lunch and reception Tuesday, Jan. 24. Roby previously spent 10 years with Youth Town, a Christ-centered program that helps teens overcome drug and alcohol addiction. A graduate of Freed-Hardeman University, Roby also worked in advancement at FHU and at Agape Child and Family Services in Memphis. He and his wife, Mena, are residents of Jackson. ARM's board of directors, staff and supporters gathered in Parrish Hall of St. Luke's Episcopal Church in downtown Jackson, where they publicly shared and prayed for ARM's vision for the future following the announcement.
Area Relief Ministries is celebrating 40 years of service and dedication to its mission of alleviating suffering, promoting dignity and fostering hope for West Tennessee families. Through partnerships with local churches, ARM supports homeless, hungry and unemployed citizens in improving their lives. Lashonda Springfield, owner of Anointed Treats and Gifts, discussed the role ARM has played in her life. "They gave me relief. The Lord showed me favor with ARM. My daughter and I were homeless and they helped me rent a house, and they inspired me," Springfield said. "That's why whatever they ask me to do, I always volunteer." Springfield is a master hairstylist and creative artist. "I want people to be inspired and encouraged because whatever trials they're going through, He'll bring you out of every one of them."
In his new role, one of Roby's priorities will be to raise $75,000 needed to support ARM's HUB Club, an after school and summer mentoring and tutoring program. HUB stands for Helping Us Build. "If we just speak our needs into existence, God will respond to our requests," Roby said. ARM Director of Programs Fred McKinnie said the eight-year-old program serves 30 to 40 students during its summer and fall sessions. ARM also oversees Room in the Inn, a program where area churches provide shelter and meals for homeless individuals.
Area Relief Ministries is a non-profit, social service organization whose mission is to strengthen citizens in need as an expression of Jesus Christ's ministry. Those interested may learn more about ARM at http://www.areareliefministries.org/. To volunteer or make a donation to support the Hub Club, call 731-423-9257.