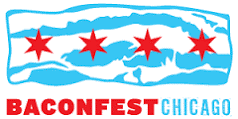 Chicago, IL (PRWEB) February 01, 2017
Baconfest Chicago Responds to Report of U.S. Bacon Shortage, Urges Calm to Bacon Nation
As Ohio Pork Council Reports on 50-Year Low in Bacon Supplies, Promises "No Turkey Bacon" at Upcoming Baconfest Chicago, March 31 & April 1
As U.S. bacon reserves hit a 50-year low, according to the Ohio Pork Council, Baconfest Chicago Co-founder Seth Zurer releases an official statement.
Baconfest Co-founder "After encouraging mass consumption of bacon at Baconfest and offering an unlimited supply of bacon delights over the last eight years, I can't help but feel responsible for this shortage in our national bacon reserves."
Zurer went on to say, "Pork farmers we all need you. America needs you. I challenge you to step it up. Don't let your country down."
Baconfest is one of Chicago's top-shelf festivals providing a unique showcase for bacon talent from Food Network stars, Michelin honored chefs (Stars and Bib-Gourmands!) and James Beard nominees, side by side with beloved local chefs on the rise. The two-day event will feature over 150 restaurants, highlighting 40 - 50 of the best chefs in the city at each of the three sessions. For a complete list of participating 2017 Baconfest restaurants, please visit this page.
"There will be plenty of bacon at Baconfest," said Zurer. "I have already been in touch with our sponsors at Nueske's and can confirm we have an abundance of reserves -- 8,000 pounds of bacon ready for Baconfest #9. We are the Fort Knox of bacon. I will assure all our bacon lovers it is pure pork belly gold. No turkey bacon (whatever that is). I promise no facon!"
Nueske's knows bacon and they've been perfecting their Applewood smoked bacon since 1882. As the official Baconfest Chicago bacon supplier, Marketing Director Megan Dorsch urged calm: "Don't panic. We've got bacon. It's delicious and we'll feed it to the bacon-lovers of Bacon Nation in Chicago."
Tickets are on sale now for the 9th annual Baconfest held on March 31 and April 1 at the UIC Forum located at 725 West Roosevelt. Tickets are available at baconfestchicago.com/ticket and are $100 for General Admission and $200 for VIP. All ticket holders get access to their selected General Admission session, including unlimited bacon dishes from 40-50 chefs as well as seven drink tickets good for beer, wine, and cocktails. VIP ticket holders are allowed one hour of early access to the session selected, with no crowds and unfettered access to bacon pleasure.
###