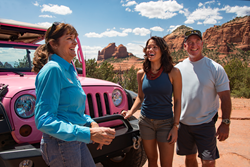 Sedona, AZ (PRWEB) February 01, 2017
Pink Jeep Tours, well-known for its adventurous desert tours in iconic pink Jeep Wranglers, is excited to offer its guests the opportunity to book a new and exclusive tour package designed especially for Valentine's Day 2017. Running from February 11-14, this VIP tour will offer a one-of-a-kind experience for any couple looking to escape the flowers and chocolates this year. This tour brings the perfect combination of adventure, romance, and lasting memories to Valentine's Day.
As the Southwest's premier provider of Jeep tours, Pink Jeep Tours knows a thing or two about creating an unforgettable experience. From their state-of-the-art tour vehicles to their highly-trained and entertaining tour guides, they are committed to a safe, unique, and exciting adventure for all their visitors. The new Valentine's Day package promises to uphold these standards—with a few romantic twists.
Couples who embark on this three hour tour will be treated to a completely private experience: just the two of you, your guide, and the majestic red rocks of Sedona. Following the itinerary of the company's popular Diamondback Gulch Tour, you'll rumble through Boynton Canyon and Greasy Spoon, along the Sidewinder Trail and through Diamondback Gulch itself, stopping along the way for incredible views of fascinating rock formations and historic sites. Hang on to your hats (and each other), because this road gets rough!
After the adventure, amp up the romance at a private picnic spot, where you'll enjoy an artisan meat and cheese tray, chocolate covered strawberries, and sparkling water. Take in the beautiful outdoors, relive the highlights from your tour, and savor the special moment. For those who want to up the "wow" factor even more, a limited number of sunset departures will be available, for an instantly romantic ambience.
More adventurous than a box of candy, more inspiring than a teddy bear, and more memorable than dinner at a restaurant, this tour will offer couples a truly unique and impressive experience. After all—what is love, if not an incredible adventure?
Space is limited so reach out to the Pink Jeep Tours Special Events Department to secure your spot by emailing groups(at)pinkjeep(dot)com or calling 928-203-7040. Ask for the "Love is an Adventure" Valentine's Day package. Tour is available for $450/couple (taxes and gratuities will be applied), a $400 savings from the regular VIP tour price and available only between February 11-14, 2017 to celebrate Valentine's Day. All reservations require 48 hours advanced notice and are non-refundable.
For more information or to book a tour, visit pinkjeeptours.com or call (800) 873-3662.
# # #
About Pink Adventure Group
Founded in 1960 and based in Sedona, Arizona, Pink Adventure Group provides unique, unforgettable tour experiences to Sedona, Las Vegas, and the Grand Canyon, for visitors from around the world. With a fleet of over 150 cutting edge vehicles, it remains the only tour company with guide trainers certified by the National Association for Interpretation on its staff, and the only tour company to use the Smith System® of Driving by all guides.