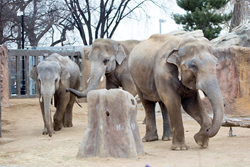 "This is a momentous occasion for Denver Zoo and the three male elephants that have a home here with us," says Denver Zoo Senior Vice President for Animal Care and Conservation Brian Aucone.
Denver, CO (PRWEB) February 02, 2017
Denver Zoo's three, male Asian elephants are now spending periodic time in the same yards together in the Zoo's Toyota Elephant Passage exhibit. The Zoo's animal care team presented this unusual situation to bulls Groucho, Bodhi and Billy over the last couple of weeks to offer them a special social experience to complement the mental and physical care that the Zoo provides every day. They will not spend every hour, or even every day together, but they will have regular opportunities to interact in the same yards if they choose. This is a rare accomplishment as Denver Zoo is one of a small number of institutions in North America able to accomplish unrelated males to cohabitate in shared space.
"This is a momentous occasion for Denver Zoo and the three male elephants that have a home here with us. The vision for Toyota Elephant Passage we came up with when developing the exhibit has come to complete fruition with these three being together. I am incredibly proud of the team and our organization for the commitment we make to the care of all the animals to give them a great life," says Senior Vice President for Animal Care and Conservation Brian Aucone.
Traditionally, male Asian elephants, or bulls, are thought only to be social with other elephants when they are young or interested in breeding. In zoos, older bulls are usually kept separate due to the potential for aggression. Experts do know, however, that some bulls in the wild will form loose associations with other bulls, after they leave their maternal herds. Denver Zoo's animal care team, in their pursuit to provide the greatest care to their animals, took this behavioral knowledge and began applying it to provide a better social experience for their bulls, once they were all mature enough.
In 2016, zookeepers began careful introductions behind the scenes with 8-year-old Billy and 12-year-old Bodhi. The two were slowly placed closer and closer together within their stalls at Toyota Elephant Passage so they could at first see each other, then touch each other's trunks and heads, and finally, share the same space without barriers. In early 2017, 46-year-old Groucho was introduced to them as well. When Denver Zoo designed this exhibit it was always with the intention of being able to manage multiple male elephants and to give them social interaction with each other should they want it. Their exhibit can manage bull elephants and offers the space and flexibility for these introductions. Now, the three spend time in the same yards in public view.
The Zoo's animal care team looked for positive interactions through each step, and continue to watch the bulls closely. Zookeepers want to offer them the choice to interact or remain alone and will only keep them together when it is positive and beneficial to them. Specific positive behaviors they look for include playful sparring, touching and vocalizing. If the bulls begin to act more aggressively, zookeepers know they want to be separated. Some days, the trio will remain alone to provide them time to themselves.
Each of the bulls bring their own personality, but they cohabit well together. While they won't be together full-time, this is a significant step and zoo staff believe the trio will benefit socially from these interactions and that Groucho might even teach Bodhi and Billy some adult behaviors.
About Denver Zoo: Denver Zoo brings informal science education alive, providing a unique learning experience that sparks an interest in the natural world for visitors and program participants alike. Home to 4,000 animals representing more than 600 species, the Zoo is accredited by the Association of Zoos and Aquariums (AZA), which assures the highest standards of animal care.
A leader in green action, Denver Zoo is the greenest zoo in the country and is dedicated to ensuring the safety of the environment in support of all species by attaining the highest environmental standards. Since 1996, Denver Zoo has participated in over 600 projects, in more than 60 countries, on all seven continents, and commits more than $2 million annually to field conservation.
###