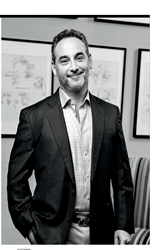 It's an honor to serve on this ISHRS Committee which seeks to teach, train, and develop new surgeons entering this exciting field of medicine
Beverly Hills, California (PRWEB) February 03, 2017
The ISHRS was the first international society to promote continuing quality improvement and education for professionals in the field of medical hair restoration surgery. They're noted for achieving excellence in the field by promoting member education, international collegiality, research, ethics, and public awareness. Annual continuing education programs for fellowship directors and co-directors are conducted by The International Society of Hair Restoration Surgery in an effort to teach and enhance their skills in teaching adult education. "It's an honor to serve on this ISHRS Committee which seeks to teach, train and, develop new surgeons entering this exciting field of medicine," shared Dr. Ziering upon accepting this appointment.
Dr. Ziering has received several honors for his exemplary work in the field of hair restoration surgery. In 2003, he had already been recognized by his colleagues at The ISHRS where his Whorl Hair Classification System was awarded the prestigious, "Most Original New Idea" at that year's scientific assembly. Dr. Ziering is often invited to be the expert guest on radio and television programs including The Today Show and Extreme Makeover (where he performed the first hair transplant procedure completed on television!). Dr. Ziering also recently starred on the hit Netflix series "Celebrity Plastic Surgeons of Beverly Hills".
Ziering Medical offers hair transplant and restoration services that benefit men, women, and transgender patients. With offices located throughout the United States, the Ziering Medical team serves to improve the lives of countless individuals. The Company's web site (http://www.zieringmedical.com) contains more information.