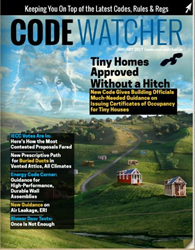 Lake City, CO (PRWEB) February 02, 2017
Jam-packed with details on the 2018 IECC outcome, this issue includes:
Tiny Houses Approved Without a Hitch. In a big win for enthusiasts of spare home footprints, tiny houses were approved and incorporated into the IRC. Here's the back story on how the change sailed through the code process so quickly.
Energy Code Minute. A new look at vapor barriers and their role in high-performing, durable wall assemblies.
New Guidance on Air Leakage, ERI. The IECC recognizes ANSI Consensus Standards to define how to conduct air leakage testing and how to calculate energy rating index scores.
Dodging Obsolescence. New thoughts on how to ensure each code cycle advances energy efficiency.
Once Isn't Enough. A case for conducting two blower door tests on new homes.
Plus: new climate predictions suggest that ignoring energy codes could be a fatal mistake ... 2018 IECC's prescriptive path for buried ducts in vented attics for all climate zones ... how "disaster deductibles" could affect building codes nationwide ... The HERS score explained in a 3-minute video.
View this free publication at http://www.greenbuildermedia.com/code-watcher-winter-2017