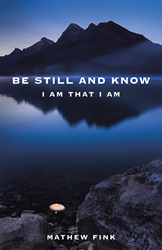 LOS ANGELES (PRWEB) February 06, 2017
A Los Angeles based author has released his first book – a collection of writings that helps readers establish their pre-existing relationship with God. "Be Still and Know," by author Mathew Fink, includes poetry, personal conversations with God and more.
"Be Still and Know" consists of writings and poems, each encouraging the reader to find happiness with one's self by way of meditating and yoga, which results in an improved relationship with God. Fink has extensive yoga experience and currently has a master level credential as an Integrated Energy Therapy Practitioner.
Fink felt he was chosen to write this book, as he had no intention of turning what he was writing into a book. After sharing what he had written with a friend, he was further encouraged to write the book. In addition to extensive experience with meditation and yoga, Fink spent significant time with a shaman, helping perfect the craft of meditation.
"I want people to know that being still allows you to listen to the messages that are always there, you just don't hear them being occupied by life," said Fink. "This book is about having a relationship with God and the fact that everyone can have a relationship with God."
Challenging everyone to find the relationship with God that already exists, "Be Still and Know" is a collection of passionate writings brought forth by one man's powerful relationship with God.
For more information, please visit http://www.mathewfink.com.
"Be Still and Know"
By Mathew Fink
ISBN: 978-1-50437-085-1 (hardcover); 978-1-50437-083-7 (softcover); 978-1-50437-084-4 (electronic)
Available at Balboa Press, Amazon and Barnes & Noble
About the author
Mathew Fink is a teacher living in Los Angeles. He does yoga regularly and has sessions with a shaman every two months.
###
Review Copies & Interview Requests:
LAVIDGE – Phoenix
Chris Peña
480-998-2600 x 519
cpena(at)lavidge(dot)com
General Inquiries:
LAVIDGE – Phoenix
Bryan Beach
480-998-2600 x 510
bbeach(at)lavidge(dot)com