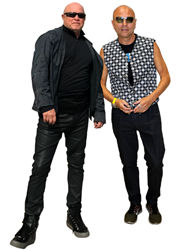 Working with Mike Score and Josh Harris on this international project has been the most incredible journey for me in music yet.
New York, NY (PRWEB) February 02, 2017
Taking off with a powerful ascent, "Ageless Prince," the first collaborative down-tempo, chill-out lounge single from Jimmy D Robinson & A Flock of Seagulls flies onto the Billboard Club Chart this week at #48. The evocative Robinson/Seagulls track delivers on heart, nostalgia, and groove. With an assemblage of rousing dance remixes, "Ageless Prince" became one of the "most added" songs by Billboard Club Chart reporting DJs in 2017 thus far. European clubs and radio are also charting "Ageless Prince." Single is currently #22 on Music Week's club charts and #9 on DJ Buzz – The Buzz Charts.
"Achieving Billboard and European chart success with 'Ageless Prince' and my collaborators A Flock of Seagulls is definitely a momentous feat," states songwriter and poet Jimmy D Robinson. "Working with Mike Score and Josh Harris on this international project has been the most incredible journey for me in music yet. I am thrilled to celebrate this chart-breaking moment with everyone on the project."
"Ageless Prince" along with Seagull's 80's anthem "I Ran (So Far Away)," which currently appears in the Oscar-nominated film LA LA LAND, marks a dazzling kick-off to the iconic group's 35 years in show business.
"Having a new hit single with 'Ageless Prince' on several charts, including Billboard and Music Week, the same month our early hit 'I Ran' is attached to the Academy Awards, through the Oscar nominated film LA LA LAND is a bit breath-taking," explains Mike Score, A Flock of Seagull's front man. "Working with Jimmy and Josh on this poetic chill-out album is a beautiful experience. We never know what lies ahead, do we?"
Music industry promotions veteran Loren Chaidez represents the "Ageless Prince" dance remix project, which features fantastic mixes from Josh Harris, Radiopunk aka DJ Jason Kalendr, Mike Cruz, Rare Candy, Roger Grey, Danny Mart, and Roland Faber. The dance mixes deliver a deeper house edge that turn the song way up for a big room dance floor attack.
"Ageless Prince" is the first single from the forthcoming Robinson/Seagulls' album titled "Living in Time," which will feature Robinson's published poetry merged with an intricate weaving of musical talents. A Flock of Seagulls and internationally acclaimed producer Josh Harris write and produce the music with Robinson's curation at Mind Juice Records. Adding to the layers, Robinson himself also makes spoken word vocal appearances on the tracks. The next single being curated for a follow-up release is an upbeat infectious love song titled "Pedro."
Read the in-depth cover story interview with Jimmy D Robinson and Mike Score of A Flock of Seagulls in Hollywood Weekly Magazine. Visit: Hollywood Weekly Magazine Cover Story.
About A Flock of Seagulls
A Flock of Seagulls are an English new wave and synth-pop band originally formed in Liverpool by Michael "Mike" Score (keyboards, vocals) and his brother Alister "Ali" James Score (drums). With being the first band signed to Jive Records and (BeBop Deluxe guitarist) Bill Nelson and (Gong bassist, OMD and Teardrop Explodes producer) Mike Howlett at the production helm the third single, "I Ran" from A Flock of Seagulls' 1982 eponymous debut, became a worldwide hit charting at number 1 in Australia and Top 10 in the US. The album achieved similar acclaim, winning a Best Rock Instrumental Grammy Award for the song "D.N.A." More success, including the UK Top Ten smash "Wishing (If I Had A Photograph Of You)" from their second album Listen in 1983 and "The More You Live, the More You Love" from 1984's The Story of a Young Heart followed as they became one of the darlings of MTV. A Flock of Seagulls continues to maintain a very active worldwide touring calendar.
About Jimmy D Robinson / Mind Juice Records
Jimmy D Robinson is a record producer, songwriter, poet and lyricist—as well as a world-renowned art dealer. His artistic work has him a sterling reputation in the world of art, publishing, and music. He has collaborated with many singers such as Carol Jiani, Melba Moore and A Flock of Seagulls.
Jimmy D Robinson Twitter: @jimmydrobinson
Mind Juice Records Twitter: @mindjuicerecord
Poet Jimmy D Robinson on SoundCloud.