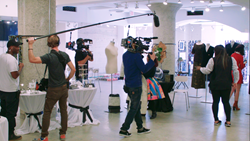 Los Angeles, CA (PRWEB) February 07, 2017
Moda 360 is a fusion of art, fashion and film, incorporating exhibits and live presentations and encouraging collaborations between the three creative industries. Collaboration and innovation is the foundation of Moda 360, encouraging participants to rethink the concept of their collections and express their individual creativity with inspiration from other artistic media. Moda 360 produces compelling content for press and social media to help participants expand their marketing and promotional reach to retailers. Attendees enjoy a unique presentation of fashion, film and art, experiencing a different perspective of the visual arts.
Partnerships thrive at Moda 360. New partner PSC Analytics, developers of an interactive, digital experience for retailers and brands, will present their inventive product at Moda 360. With PSC Analytics, items and merchandise are discretely tagged so that when customers pick up a product, informative images or promotional videos specific to that unit are immediately shown on a stationary display screen or mobile ipad. This groundbreaking technology not only brings the digital experience to in-store and live displays, it allows for more accurate reporting, tracking real time interactions and consumer engagement with each product. The Standard Hotel in the middle of DTLA joins Moda 360 as a hotel partner, offering corporate rates to attendees of the events. The Standard, Downtown LA is Mid-Century California architecture par excellence. The 207-room hotel features massive guest rooms, a rooftop pool and bar with stunning panoramic views of LA, a rooftop beer garden serving traditional German food and beer, a stellar 24-hour restaurant, and the full-service Ping-Pong club SPiN Standard.
In celebration of the 50th anniversary of the Los Angeles Zoo and Botanical Gardens, Moda 360 will feature a special runway event highlighting the Zoo's international conservation programs, protecting the wildlife and habitats of endangered species on virtually every continent. Moda 360 is issuing a call to artists and designers to create runway looks that express the species or habitats the L.A. Zoo works to protect and preserve. The designs will be presented in a special, sustainable runway show. In November 2016, the Los Angeles Zoo and Botanical Gardens marks its 50th anniversary with a "ZooLAbration" of its November 28, 1966, opening that spotlights not only its key role as a world-class destination and an important community asset but also its critical successes in conservation, quality of life and premier care for animals. The landmark Los Angeles Zoo and Botanical Gardens, drawing nearly 1.8 million visitors each year, is home to a diverse collection of 1,100 animals representing 250 different species, many of which are rare or endangered, as well as a botanical collection comprising over 800 different plant species with approximately 7,000 individual plants. Accredited by the Association of Zoos and Aquariums (AZA), whose members meet rigorous professional standards for animal welfare, the Zoo has achieved renown as an international leader in the preservation of endangered species and a conservation center for the care and study of wildlife.
International fashion videos will stream continuously throughout the event, and short films from talented filmmakers will be screened at film events during Moda. Seminars and panel discussions will cover a variety of subjects of interest to participants, professionals and public, including discussions by artists, designers, and filmmakers, a seminar on alternative financing for small businesses, and a special one-woman presentation on the life of a model during the 70's and 80's.
Moda 360 promises an exciting program of exhibits, film, live presentations and informative seminars and discussions. Applications are open for designers and artists interested in participating, and filmmakers may submit links to their work for consideration. Moda 360 welcomes partnerships with media outlets and brands and offers a "platform of possible" to interested sponsors and partners.