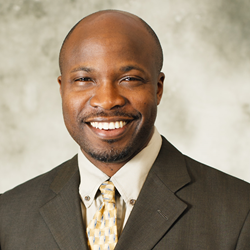 He is a vital asset to our transit clients bringing not only a strong client perspective, but also innovative approaches to transit planning, especially corridor development
ATLANTA (PRWEB) February 01, 2017
Taiwo Jaiyeoba joined HNTB Corporation as regional business development manager. He supports clients in Atlanta, the Carolinas and throughout the country, and is based in Charlotte, North Carolina.
At HNTB, Jaiyeoba undertakes efforts to expand HNTB's client service throughout the firm's Southeast Division, primarily focusing on the transit market sector. Additionally, he works closely with HNTB's national transit and rail practice leadership on local and national pursuits.
"Taiwo joins HNTB with significant transit planning experience in the Southeast and nationally," said Jeffrey Parker, HNTB Atlanta office leader and vice president. "He is a vital asset to our transit clients bringing not only a strong client perspective, but also innovative approaches to transit planning, especially corridor development."
Jaiyeoba has 26 years of experience in planning, managing major land-use and transit studies, and capital projects throughout the U.S. He has worked directly with the Federal Transit Administration on several projects and has 20 years of work experience for transit agencies most recently in California and Michigan.
Prior to joining HNTB, he served as transit planning market sector lead for another consulting firm, where his responsibilities included oversight of a transit planning program in Georgia and the Carolinas.
Jaiyeoba is a graduate of the American Public Transportation Association's Leadership APTA and the Eno Center for Transportation Leadership. He earned a Master of Science in city and regional planning, and a Bachelor of Science in geography, from Ife University in Nigeria.
HNTB's transit work in the Southeast has helped shape and expand the region's multimodal transportation network. The firm currently serves as construction manager for the Charlotte Area Transit System's Blue Line Extension in Charlotte, North Carolina. After completion, the project will connect 20 miles of the city and is expected to nearly double 2035 ridership projections. Other HNTB transit projects in the Southeast include work for Metropolitan Atlanta Rapid Transit Authority, Georgia Regional Transit Authority, All Aboard Florida and Central Florida Commuter Rail Transit.
About HNTB
HNTB Corporation is an employee-owned infrastructure solutions firm serving public and private owners and construction contractors. With more than a century of service in the United States and nearly 50 years in in Atlanta, HNTB continues to grow in size and service offerings to clients, currently employing more than 120 full-time professionals in the Atlanta area. HNTB understands the life cycle of infrastructure and addresses clients' most complex technical, financial and operational challenges. Professionals nationwide deliver a full range of infrastructure-related services, including award-winning planning, design, program management and construction management. For more information, visit http://www.hntb.com.