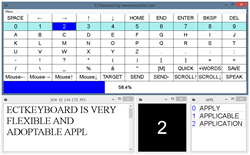 Our mission is to create efficient and readily-available solutions in the field of augmentative and alternative communication technologies.
Geneva, Switzerland (PRWEB) February 02, 2017
Swiss technology company EyeComTec (LAZgroup SA) today announced the release of a new, updated version of its popular assistive software typing program ECTkeyboard, which aids disabled people with impaired mobility to type on a computer through a variety of methods.
The software, which is highly customizable and available free to people with physical difficulties, has expanded the ways in which the keyboard can be used.
"As a company, we are absolutely dedicated to creating products and services which enhance the lives of those living with physical disabilities. We believe that paralysis or significantly impaired mobility shouldn't block people from technology—and we especially don't believe they should be priced out of the market," said Kretov Krill, EyeComTec's Managing Director and System Architect from the company's headquarters in Geneva.
"ECTkeyboard helps those with limited motor skills to type text through a range of actions, opening up communication in a flexible way. We are pleased to announce this 2017 update, which implements several new changes based on feedback from our users."
Originally, ECTkeyboard allows for lengthy messages to be typed out with just one tap of a button, using a scanning method to pick the desired letter. The update sees five major changes, along with many minor fixes:

Those who are voiceless may use the inbuilt text-to-voice synthesis for oral communication
Those with visibility impairment can take advantage of the pronunciation feature to type, which is enabled in scanning mode
Vocabulary prediction has been enabled, allowing for faster typing
Multiple entry modes have been added to support those with a wide range of disabilities with supporting devices
Emulation of mouse actions to imitate the moving of a mouse cursor, clicking and scrolling for speedier use of computers
ECTkeyboard can be downloaded and used in just seconds, and supports a variety of languages. For more information about ECTkeyboard and the company's other assistive software programs for people with impaired mobility, or to claim a complimentary copy, please visit https://www.eyecomtec.com. For media inquiries, please contact Iryna Kaspryk at +41-794-822-839, or email at support(at)EyeComTec(dot)com.
About EyeComTec
EyeComTec, a sub-division of LAZgroup SA, is a Swiss company at the cutting edge of assistive software design and development for people with impaired mobility. The company's products allow disabled people to use technology with greater ease. For more information, please visit EyeComTec's website.