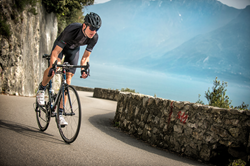 "The Racemaster is making its debut on the World Tour stage with Team Bahrain-Merida," said Paul Craig, Co-Founder and President of Rudy Project North America.
Denver, CO (PRWEB) February 03, 2017
FOR IMMEDIATE RELEASE
Built for extreme performance and unparalleled protection, the Racemaster is Rudy Project's latest cycling helmet creation with a fluid, aerodynamic design and loaded with features that cyclists and triathletes will love. Featuring cutting-edge safety tech, available with Hexocrush and optional MIPS®, along with reflective straps and integrated safety reflectors, the Racemaster sets a new bar in helmet protection. Exposed rebar and a sleek design give the Racemaster a unique look with amazing ventilation, and techno-geometric mathematics create a fast and sleek profile.
The Racemaster's internal construction is enhanced with Rudy Project's exclusive new Hexocrush technology, enhancing structural integrity. Originally inspired by conehead technology and developed to be extremely lightweight, the inner protective liner is molded with two different foam densities in a hexagon-shaped structure to provide improved shock absorption by dissipating impact forces sideways and radially. Hexocrush technology ultimately reduces G-force pressure on the head in case of falls or impact, providing the ultimate performance-oriented protection for athletes.
"The Racemaster is making its debut on the World Tour stage with Team Bahrain-Merida," said Paul Craig, Co-Founder and President of Rudy Project North America. "It's a stunning-looking helmet, with a fit that's in a class with our popular Sterling helmet which I consider to be the industry's benchmark product for comfort. And the Racemaster is lighter, faster, sleeker, and it's the ideal road/tri helmet with an absolute show-stopping, one-of-a-kind look."
The Racemaster will also be available with MIPS® (Multi-directional Impact Protection System), which is a low friction layer that mimics cerebrospinal fluid, and acts between the head and the helmet to provide added protection during angled impacts.
An easily customizable fit is ensured with the precision RSR 9 Retention System and Divider Pro side buckles, allowing for complete adjustment that's earbud friendly. Reflective straps improve rider visibility, and a uniquely designed helmet tail reduces vortex formation, thus reducing overall drag and neck strain. An innovative new 'Garage Eyewear Dock' provides a unique system to hold sunglasses at the back of the helmet securely, and prevents contact between the sunglasses' temple arms and the user's head. Dividers in the back of the helmet keep sunglasses snugly in place, while the rigid tail frame prevents bouncing. The removable visor comes standard, allowing for a personalized setup for maximum comfort and style.
A key additional benefit is the removable and washable bug net that provides added comfort and a barrier to pesky wasps and bees that might come between you and the open road ahead. Plus, each Racemaster comes with a Custom Microfiber Pouch to protect your investment and keep your helmet shiny and new. The Racemaster comes in three colors: Black Stealth Matte, White Stealth Matte, and Gold Velvet. The Black Stealth Matte and White Stealth Matte colors are also available with MIPS. Two available sizes: Sm/M (54-58 cm or 21.2-22.8 in) and Large (58-61cm or 22.8-24in). Purchase or pre-order yours today at http://www.e-rudy.com.
About Rudy Project
Italian Crafted Sunglasses, Helmets, Googles, + Rx/Prescription Eyewear Since 1985 • 6-Time #1 Most-Worn Aero / TT Helmet at IRONMAN® World Championships • Unbeatable Replacement Lens Guarantee • http://www.e-rudy.com
Media Contacts: Simone Cordery-Cotter - simone(at)gorace(dot)pro 949-272-2476