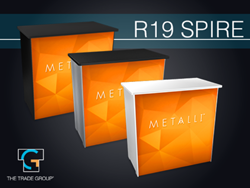 "We were struggling with a gap in the market and needed to provide a good option for our clients," says Kimberly Tyner, CCO of Spire Agency. "We partnered with The Trade Group to build one, and they knocked it out of the park!"
Dallas, Texas (PRWEB) February 02, 2017
Spire Agency approached The Trade Group (TTG) about a custom project for a client that would complement the LUMIO Light Box display their client was already using. However, Spire was not able to find what they were looking for in the marketplace.
"We were struggling with a gap in the market and needed to provide a good option for our clients," says Kimberly Tyner, CCO of Spire Agency (a B2B branding firm in Dallas). "We partnered with The Trade Group to build one, and they knocked it out of the park!"
The issue many clients faced was finding a counter that was sturdy, would only require one person to install and could ship FedEx or UPS along with their existing exhibit—they often had to ship the counter separately, which drove up costs.
TTG and Spire came together and designed a new counter with a custom look and feel, was sturdy and mimicked the LUMIO Light Box style -- where the entire front of the counter was fit with a seamless, backlit SEG fabric graphic. This new counter, dubbed the METALLI® R19 Spire (in honor of the collaboration with Spire), is composed of a lightweight composite and features hidden hardware for a sleeker model compared to previous designs. The counter is coated using thermoformed 3D laminate with multiple options: black and white crystal (available for rental), brushed aluminum, black high gloss, and five wood texture laminate options.
Before the use of SEG fabric, graphics of this size (37.5" x 37.5") would need to be printed on two separate panels and attached to the front with a seam running down the middle, if they were to ship easily. However, with The Trade Group's SEG fabric capabilities, the front is now not only seamless but backlit, with efficient LED lighting, to draw attention to the counter and match the effect of light box displays.
The R19 Spire is also designed with a locking storage cabinet for protecting valuables. It can hold up to 300lbs but is also able to break down into pieces that pack flat into a rollable clam shell case. This allows the counter to be shipped using UPS or FedEx, along with smaller, flat-packing exhibits. Install and dismantle of the R19 Spire is so effortless, it can be completed by one person, using one tool, within 30 minutes.
This counter design measures at 40.5"w x 23"d x 39"h and will also be released in a smaller size (about 24"w) under the name R18.
The METALLI R19 Spire counter is the perfect accessory to TTG's LUMIO Light Box displays or any of the METALLI portable and modular exhibits. With its sleek and sturdy design, you can rely on this counter to provide utility as well as style. Contact The Trade Group at 1.800.343.2005 or visit http://www.tradegroup.com to get your design ideas rolling with our professionals.
ABOUT THE TRADE GROUP:
The Trade Group is a full-service, award-winning provider of products and services for trade shows, corporate events, retail environments and an endless array of face-to-face experiences. The organization helps clients share their unique stories through a comprehensive suite of solutions that includes: exhibit design and fabrication, graphic design and production, exhibit management, digital applications, video production, exhibit accessories, strategic marketing and more.