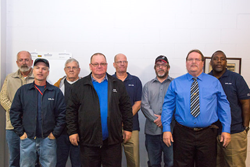 This ceremony overrides all of the less than positive things we deal with in our department. This is a milestone in their careers, and we thank them for their dedication to safe driving. - Pat Landreth, director of safety
Milan, Tennessee (PRWEB) February 03, 2017
Milan Supply Chain Solutions held its annual award ceremony Monday Jan. 9, 2017, for seven truck drivers who have reached one and two million consecutive miles of safe driving. "It is a big deal for them and for all of us," Pat Landreth said. He is Milan's director of safety. "This ceremony overrides all of the less than positive things we deal with in our department. This is a milestone in their careers, and we thank them for their dedication to safe driving."
Charles Robinson, Michael Wood, Bobby Cagle and Robert Barrett have driven one million consecutive miles without an accident, while Danny Bishop, Kraig Hinrichs and Orinthius Patrick have driven two million consecutive miles accident-free. Since 1969 more than 100 Milan drivers have reached the one million safe driving milestone, and several have achieved the two million mark. In addition to the million mile safe driver honorees, retired driver Baker Whitthorne was recognized for 37 years of service. Whitthorne retired last December.
Honorees were encouraged to bring their families for the ceremony held in the Billy Walker training room in Milan. "It's important to have family with you because they share in this accomplishment," Senior Vice President David Dallas said. "One million and two million miles is not an easy accomplishment, and it can't be done without great support at home. You're not driving the truck, but you're the key."
Drivers received plaques, million mile baseball caps, gift cards, company watches, a model of a Milan tractor-trailer and million mile decals for their trucks. Their spouses received floral bouquets. Drivers honored said safe driving requires patience and constant awareness of their surroundings. "I'm never in a rush, and I pay attention to the small things. I'm a professional, so I prepare for the worst at all times," Orinthius Patrick said. Patrick has been a driver for more than 16 years. Another two million mile safe driving recipient, Danny Bishop, calls on a higher power to help him on the road. Bishop has driven for Milan for nearly 21 years. "I say, 'Lord have mercy,'" Bishop said. "I ask that He lead, guide and protect me."
Milan's dispatchers, who field calls from drivers when they are out on the road, praised the drivers honored and called them "hardworking" and "loyal." "It's untold the amount of money they've saved the company. These folks represent 11 million consecutive safe miles, a total 115 years of service and represent the best you'll find in our company," Landreth said.
About Milan Supply Chain Solutions
Founded in 1969 as a family business, Milan Supply Chain Solutions is a transportation services company specializing in truckload, logistics, warehousing/storage consolidation and distribution services. Milan SCS brings together vital components to keep business moving, linking manufacturers with transportation and warehousing services to solve the logistics problems they face. With 530,000 square feet of warehouse and distribution space in Milan and Jackson, Tennessee, Milan SCS also offers complete asset based transportation services. Their experience, flexibility, expertise and financial resources have served a diverse portfolio of companies the past five decades, including those in the Fortune 500. Additional information is available at http://www.milanexpress.com and through several social media channels: LinkedIn, Facebook and as @drivemilan on Instagram and Twitter.