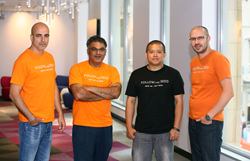 Our unique data-driven approach helps us filter through the noise and pick out the winning horses well before they get on the traditional VC's radar
(PRWEB) February 03, 2017
Next generation data-driven VC fund, Follow[the]Seed, will offer $100 million in second-stage funding to startups, following its global fund opening to investors in Feb 2017.
With a global footprint across the Tel-Aviv, Beijing, Silicon Valley and Sydney, Follow[the]Seed will cater to the growing, but under-resourced market of startups seeking to raise between $0.5 and $2 million and will focus on Israeli and US based startups.
Co-founded by a seasoned Silicon Valley based investor and entrepreneur, Ajoy Mallik, in partnership with three other high profile investors - Andrey Shirben, Curt Shi & Eliav Alaluf, Follow[the]Seed has already finished raising its Australian fund and made some global investments in companies like Silicon Valley based WorkSpot and the Australian ClassCover. The global fund will be open for investments early 2017.
"Follow[the]Seed is filling a significant gap in the investment market, where startups seeking between $0.5 million and $2 million really struggle to find investors. At that stage in their growth, in many cases, they are too large for most angel investors, and too early for Series A investment, but just as startups both larger and smaller, they are every bit as much in need of capital," says Mr. Mallik. "Our unique data-driven approach helps us filter through the noise and pick out the winning horses well before they get on the traditional VC's radar."
The data driven approach is made possible using the RavingFans® algorithm. The Algorithm assesses the potential of consumer internet ventures at a very early stage by identifying habit-forming products and services, Such as (but not limited to) gaming, messaging, and e-commerces, creating "irrational" patterns of behavior leading to obsessive, compulsive or addictive use. Using a simple SDK and rapid data analysis, it analyzes how early adopters use and interact with that product. The RavingFans® can identify applications and technologies that are likely to become viral hits well before they reach critical mass, with only a few thousands of users.
Where traditional investment firms need to see millions of users before being able to make Series A investment decision, Follow[the]Seed, through RavingFans®, is able to flag the startup as an investment opportunity based on a sample of just a few thousand users and well before VC's would traditionally step in.
Follow[the]Seed welcomes cooperation, partnerships and co-investment opportunities with local professional investors and venture capital firms.
In addition to RavingFans®, Follow[the]Seed applies a Reverse Problem Solving (RPS) - A unique methodology to assess enterprise ventures that allows it to identify early trends, issues and 'pain' points by working closely with large enterprises and fortune 500 companies. This information allows Follow[the]Seed to invest in the right technologies that provide solutions to these identified problems. In other words - it's identifying the buyers and their problems first and only then investing in startups that are solving these problems. Cyber Security for example is one of today's biggest challenge for enterprises. Knowing first-hand of the exact problems they're facing, enables us to identify the right Cyber Security solutions to invest in.
Follow[the]Seed is probably the only fund that operates on the ground, across four different continents. The global fund comprises a highly experienced team with the founding partners boasting a track record of over $300M raised by their portfolio companies, Over $2.5 Billion in combined companies' capitalization and with over $450M total value of combined exits. The fund's four founders are:
Ajoy Mallik (San Francisco, US) – Ajoy has a wealth of expertise in the enterprise market. He was part of the core founding team of Odesk as well as a senior executive at TATA and Cognizant, in charge of their venture investments and innovation ecosystems. He is an investor in several companies under the Skyblaze LLC brand, as well as other direct investment in the US such as 123signup (acquired), Webaroo (pre-IPO), and EzHome.
Curt Shi (Beijing, China) – A veteran in the Telecom, Media and Technology space, as well as in the action sports sector, Curt is an experienced early stage investor and VC fund manager in the complex, but massive opportunity in China. With more cross-border private placement practice in past few years, one of his latest successful investments was Catapult Sports that was listed on the ASX (CAT) Dec 2014last year (15X in 18 months). Curt is a winner of "CPA Australia - Australia China Alumni Award for Banking and Finance" by Australia China Alumni Association for 2016.
Andrey Shirben (Australia) – Originally from Israel, and based in Sydney for the last five years, Andrey has been investing in innovative companies for the last decade, including over two dozen Australians startups (such as Catapult Sports, Jayride, Cymmetria, StorReduce and many more). His other notable investments have included Kenshoo, Storwize (which was sold to IBM for $140 million) and Face.com (which was sold to Facebook for a rumoured $100 million).
Eliav Alaluf (Tel-Aviv, Israel) – Located in one of Israel's leading startup hubs in Rothschild avenue in Tel Aviv, Eliav is well positioned to find the next Israeli Waze, Outbrain, Wix, and Taboola. He is the creator of the RavingFansⓇ methodology, and specialises in using behavioural analysis and consumer psychology to "pick" winners to invest in.
"Our global reach will provide investors with unique access to diversified quality deal flow from the Silicon Valley, Israel, China and Australia and will make it possible for the ventures to expand to the US and Asia (especially China) and benefit from each of the partner's unique expertise, wealth of experience and networks," Mr. Malik added. "When a company like WorkSpot, which is based in the Silicon Valley and already has access to top tier VCs, chooses us to join their growth journey it proves our team's hands on approach and network offers a real added value to everyone involved."
Over the next five years Follow[the]Seed will make between 100-120 investments – with a combined total of $200 million - across each of its four global funds, and will focus on innovative consumer technology ventures and enterprise solutions, applying its proprietary data-driven algorithm RavingFans® and RPS to its investment decision processes.
ENDS
About Follow[the]Seed:
Follow[the]Seed is a data-driven global VC fund for companies seeking post-seed investment. Co-founded by local tech investor and entrepreneur, Ajoy Mallik, in partnership with three other high-profile investors from around the globe, Follow[the]Seed is headquartered in Sydney and spans across Silicon Valley (led by Ajoy Mallik), Tel-Aviv (led by Eliav Alaluf), Sydney (led by Andrey Shirben) and Beijing (led by Curt Shi). The fund aims to democratise access to capital by introducing the RavingFans® algorithm which assesses the potential of habit forming products, services and applications at a very early stage by using rapid data analysis of user behavior patterns.
Developers can download the RavingFans® SDK directly from the Follow[the]Seed website (http://followtheseed.vc/). After it has been implemented it into an app or software package, it will take between three and six weeks to have sufficient data to determine the app's RavingFans® score.
For more information about Follow[the]Seed's recent investments please see:
http://tech.co/workspot-6-2m-vdi-product-growth-2016-10 seed invests in WorkSpot]
http://www.afr.com/leadership/entrepreneur/followtheseed-a-50m-fund-for-habitforming-aussie-startups-makes-first-investment-20160912-gre6k2 seed invests in ClassCover]