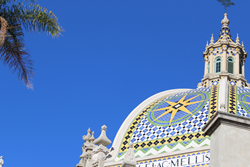 San Diego, CA (PRWEB) February 02, 2017
The Balboa Park Explorer Pass, which allows visitors to explore Balboa Park in an affordable way, celebrates one year of exclusive Explorer Experiences available only to Annual Passholders, events like Be the Astronaut coming up this Saturday, February 4, 2017 at the San Diego Air & Space Museum, and the Cherry Blossom Festival March 10-12, 2017.
Explorers enjoy an exclusive first-look at Be the Astronaut, a fun, interactive adventure allowing visitors to launch a rocket, pilot a spaceship and drive a rover in space. The museum will open early for Explorers to experience this special exhibition, which allows visitors to discover the solar system first hand with the help of virtual astronauts and land on multiple worlds, including the moon, Mars, Jupiter and asteroids. Scientifically verified by experts at NASA for accuracy and feasibility, Be the Astronaut teaches the concepts, challenges and excitement of spaceflight through the use of touch-screen stations, artifacts and interactive simulator pods built to look like space capsules.
The 12th Annual Cherry Blossom Festival Explorer Experience in March at the Japanese Friendship Garden celebrates spring and the blooming of the cherry trees with cultural performances, Japanese food, unique local vendors and a children's corner. Guests may partake in Hanami, the traditional custom of picnicking under the cherry trees. Access to this event will be free for Explorer Annual Passholders.
Be the Astronaut will be the twelfth Explorer Experience, effectively marking one year since the launch of the program and solidifying Experiences as a benefit of the Explorer Annual Pass. Past events have included private Balboa Park garden tours, free access to special exhibitions, behind-the-scenes tours at The Old Globe, and free guided climbs of the California Tower.
ABOUT THE BALBOA PARK ANNUAL EXPLORER PASS
The Balboa Park Explorer Pass provides general admission to 17 museums in Balboa Park, with discounts for seniors and students, and no blackout dates, starting at just $99. In addition to exclusive Explorer-only events monthly, Annual Explorers also receive tailored, bi-weekly newsletters, up-to-date special announcements and personal recommendations and insights directly from Park staff. Annual, One-Day or Multi-Day Explorer Passes are available for purchase online at https://explorer.balboapark.org/. The Explorer Pass directly funds participating museums in Balboa Park.
ABOUT BALBOA PARK CULTURAL PARTNERSHIP
Balboa Park Cultural Partnership is a nonprofit organization through which 28 arts, science and cultural institutions in Balboa Park collaborate to achieve shared goals. By helping these groups achieve greater organizational efficiency, innovation and excellence, it seeks to contribute to the vitality and sustainability of Balboa Park. For more information visit http://www.bpcp.org.