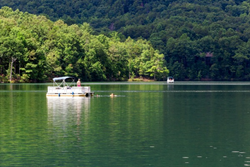 Big Canoe, one hour north of Atlanta, is an ideal choice for those seeking a mountain community in a great location, with a strong focus on conservation, resort-style amenities, and an active outdoor lifestyle.
Bluffton, SC (PRWEB) February 02, 2017
Marian Schaffer, Principal and Founder of Southeast Discovery, a real estate consulting firm specializing in guiding Baby Boomers with their real estate needs in the niche markets of retirement relocation and second homes in the Southeast region, recently shared 10 reasons to consider the Georgia mountain community of Big Canoe, located one hour north of Atlanta, GA, for retirement, relocation or second home purchase.
"There aren't many master-planned communities that have four decades of history like Big Canoe," said Schaffer. "Being an hour from a major U.S. city like Atlanta, and easy to get to from anywhere in the U.S., yet feeling a world away is another invaluable attribute. This Georgia community has broad appeal to retirees and second home buyers, as well as families seeking a vacation home."
According to Schaffer, these ten qualities make Big Canoe a strong choice for those seeking a mountain community in a great location, a strong focus on conservation, resort-style amenities, and an active outdoor lifestyle.
#1: Great location and convenient living.
Big Canoe enjoys a convenient-yet-secluded location, one hour north of Atlanta. Though the community is set within 8,000 acres, which includes seven mountain tops, thousands of acres of seasonally changing mountain foliage, mountain lakes and streams, and miles of trails, GA 400 and other major highways provide easy access to the community's gates. Big Canoe is made up of 60% full-time residents, many of whom commute to work in Atlanta, and the North Georgia towns of Dawsonville, Dahlonega and Blue Ridge are nearby.
#2: Abundant resort-style amenities to choose from, with à la carte memberships available.
Big Canoe offers a robust suite of amenities, including 27 holes of championship golf and a driving range, a lake-front clubhouse, fitness center and spa, indoor and outdoor swimming, onsite dining and shopping, walking, biking and hiking trails, a racquet club with tennis and pickleball, three dog parks, a marina and three lakes for fishing and boating, bocce ball, playgrounds, and more. But as Schaffer pointed out, "Unlike other master-planned communities where there are mandatory membership fees for property owners, residents of Big Canoe can tailor an amenity package based on their interests and only pay for the amenities they want to use." There are a variety of membership levels available, as well as the option to pay daily or weekly rates.
#3: A socially active, welcoming community.
"Big Canoe has more than 50 social clubs and volunteer organizations, and plenty of activities for every kind of interest," Schaffer said. Social gatherings and community events, many of which are complimentary, include annual events like the Easter Egg Hunt, Summer Concert Series at The Terraces, Fourth of July Fireworks Show, Oktoberfest, Trunk or Treat, and Brunch with Santa. Social clubs include the Wildflower Bunch Garden Club, Canoe Cubs, Photography Club, Acoustic Jam, Dinner for 8, Artists Club, Trails Committee, Men's Golf Association, and many more.
#4: Wide variety of home styles, home sites, sizes and pricing to appeal to today's real estate buyer.
"One of the things we admire about Big Canoe is the assortment of distinctive neighborhoods and property types that appeal to a wide range of buyers," said Schaffer. These include lakefront property, wooded privacy with mountain views, and property with long-range views of the Atlanta skyline. Home styles are authentic to the mountain region, and buyers can choose from homes situated among golf courses, forests, streams, wildflower meadows, lakes, and walking trails. In addition to resale homes, Big Canoe has home sites available from $40,000 to $300,000+, and new homes from $400,000 to $3,000,000+. Architectural guidelines are in place to help protect property values and the beauty and integrity of the community.
#5: The beauty of the land and a commitment to conservation so it stays intact.
Big Canoe encompasses 8,000 acres; 2,000 of which are preserved greenspace. Development is undertaken with a commitment to sound land stewardship that preserves nature, with minimal disruption to wildlife. Residential homes are set in their own forest, and blended into the natural environment with minimal disturbance to the larger forest.
#6: Mild, all-season climate.
"Big Canoe's location in the North Georgia mountains enjoys a generally mild climate year-round, without extremes between seasons, which allows for outdoor activities to be enjoyed any time of the year," said Schaffer. "And because of its higher mountain elevation, the humidity is lower than in Atlanta, yet severe winter weather is rare."
#7: Dog and pet friendly.
"Big Canoe offers three, fenced, well-maintained dog parks, which are a great place for residents to start their day with their pets, or meet up with fellow neighbors," said Schaffer. There is also a no-kill animal rescue shelter called Big Canoe Animal Rescue (BCAR) in the community that cares for homeless strays until they are adopted.
#8: Reasonable Property Owners Association (POA) fees.
Big Canoe's dues structure is just under $3,040 annually for homes/condos, and just under $1,970 for lots. "We find this very reasonable considering these dues include access to a well-maintained, gated community, with its own fire and public safety department, postal facility, clubhouse, 20 miles of trails, and many other compelling amenities," said Schaffer.
#9: Wildlife is respected and preserved.
Big Canoe is registered with the Atlanta Audubon Society as an official Wildlife Sanctuary, and is home to many species of birds, including bald eagles, quail and wild turkeys, and black bear, deer, rabbits and squirrels as well.
#10: Quality development and collaborative management.
The developer of Big Canoe, Big Canoe Company, invests in the community through its financial commitment to infrastructure, neighborhood development, home construction, and marketing and real estate sales programs directed toward both resale and new product. Big Canoe Company also works with the Big Canoe Property Owners Association (POA), to create value for owners and visitors through its management of amenities and delivery of customer service. The POA has $40 million in assets with which to maintain the community's facilities and infrastructure.
If you're considering relocating to the Southeast but don't know how or where to start your search, we can help. We've been working with clients to find the right area and community to call home in the Southeast for over a decade. Feel free to complete our complimentary online questionnaire here to get feedback on the best areas and specific communities that may be just right for you.
About Southeast Discovery
Since 2004, Southeast Discovery has been a trusted resource for candid information and insight on communities, developments, and general real estate in the Southeast. Through its highly-ranked web portal, newsletter and blog and its one-on-one work with clients, Southeast Discovery helps buyers actively looking for a retirement or second home in the Southeast navigate the process of identifying the right area and community for their needs. To learn more, visit http://www.southeastdiscovery.com/