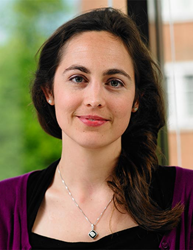 This is further validation of the breakthrough technology the Vortex VTX-1 Liquid Biopsy System is and the impact this will have on cancer patients.
MENLO PARK, CA (PRWEB) February 06, 2017
Vortex Biosciences, provider of circulating tumor cell (CTC) capture systems, today announced that Chief Scientific Officer (CSO) Elodie Sollier has been selected as 1 of 9 finalists for the 2017 SLAS Innovation Award. Elodie is a candidate for the award based on her presentation titled "Vortex Technology for fast and label-free isolation of circulating tumor cells from blood samples" which will be presented at SLAS on Monday February 6th at 4:30 pm. As 1 of the 9 finalists, a panel of judges will evaluate her presentation and compare it with the other finalists to determine the winner of the 2017 award.
The annual SLAS Innovation Award recognizes extraordinary achievement in innovative life sciences discovery and technology. All those selected to deliver podium presentations at the annual SLAS conference are eligible to be considered for this award. After receiving nominations from 83 SLAS 2017 podium presenters, the SLAS Innovation Award panel of judges invited 21 presenters to submit extended abstracts for further consideration. Of these 21 extended abstracts, 9 were identified as finalists. The complete judging criteria can be seen on the Innovation Award page of the SLAS 2017 website.
"I am honored to be one of the finalists for something as prestigious as the 2017 SLAS Innovation Award," said Elodie Sollier, Chief Scientific Officer of Vortex Biosciences. "This is further validation of the breakthrough technology the Vortex VTX-1 Liquid Biopsy System is and the impact this will have on cancer patients."
CTCs are relatively scarce, with concentrations as low as 1–10 CTCs/mL of whole blood, against a background of millions of white blood cells and billions of red blood cells. Existing CTC isolation technologies have been limited by complex sample processing, poor scalability, low sample purity, reliance on cell surface proteins for isolation, and dilute output volumes that require additional cell concentration steps.
The fully automated, easy to use VTX-1 Liquid Biopsy System from Vortex represents the next step in CTC isolation. Inside the VTX-1 chip, unlabeled CTCs in whole blood are selectively trapped in microscale vortices while smaller red and white blood cells pass through. Afterwards, CTCs can be collected into a variety of containers for downstream analysis. With a cancer cell recovery of 65-75% and best in class CTC purity. The CTCs collected are unbiased by their molecular characteristics. These cells are intact, viable, and ready for downstream analysis. The VTX-1 offers the best CTC samples available today.
About Vortex Biosciences
Vortex Biosciences is a cancer research and diagnostics company that integrates cancer biology, microfluidic engineering and informatics to develop tools for isolating and characterizing circulating tumor cells. The Vortex VTX-1 instrument harvests intact circulating tumor cells from whole blood samples for use in downstream research and clinical applications such as patient stratification in clinical trials, monitoring disease progression and drug treatment effectiveness. With a mission to enable noninvasive diagnosis of cancer and real-time monitoring throughout a patient's treatment, Vortex is at the forefront of accelerating cancer research and improving patient outcomes. Vortex is a core subsidiary of NetScientific plc, a transatlantic healthcare technology group with an investment strategy focused on sourcing, funding and commercializing technologies that significantly improve the health and well-being of people with chronic diseases. For more information, visit http://www.vortexbiosciences.com.