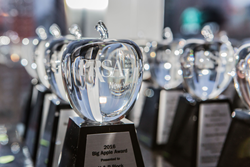 There is absolutely no better market to recognize work that inspires, engages and sparks dialogue – such as our new awards for Diversity and Inclusion – and sets new bars of excellence.
New York, NY (PRWEB) February 02, 2017
The Public Relations Society of America-New York Chapter (PRSA-NY) announced today the official Call for Entries to the 2017 Big Apple Awards, a prestigious annual program honoring the best PR, marketing and communications work developed or implemented in the New York metro area.
Winners of the peer-reviewed Big Apple Awards are celebrated among the most innovative and strategic communications campaigns or projects of the previous year. Recipients of the crystal "Big Apple" Award laud the program for its integrity as well as its value for client recruitment and retention, intra-industry recognition, and internal morale boost for the winning teams.
"PRSA-NY represents communications professionals working in the heart of the world's media capital," said Olga González, FGA DGA, PRSA-NY President and CEO/Founder of Pietra PR. "There is absolutely no better market to recognize work that inspires, engages and sparks dialogue – such as our new awards for Diversity and Inclusion – and sets new bars of excellence."
For 2017, the entire Big Apple Awards slate was retooled to better reflect the current work, techniques, talents and tools of communicators, marketers, and creative professionals. The program now boasts more than 100 distinct Campaign and Spotlight Award categories, including 20 new awards for Brand Engagement, Content Marketing, Digital Media, Diversity and Inclusion, Influencers, Marketing for: Arts, Culture and Media … Beauty … Fashion … Real Estate … Restaurants and Bars … Retail … and Sport, Video and more. Every Campaign award includes a subcategory for programs with budget of $150,000 or less.
"The spotlight we shine on outstanding work will reach every corner of the industry," added Gonzalez. "We are throwing open the doors to invite entries from in-house teams, agencies of all sizes, and independent practitioners across the metro region. Everyone industry-wide is welcome!"
Membership in PRSA-NY is not a requirement for entry; fees are less for members. Discounts apply for early bird registration and multiple-entry campaign submissions.
Entries undergo a peer review by panels of leading industry experts who evaluate the research, planning, execution, and results of each submission. Campaign category winners will also be considered for the special "Best of the Best" and "Best Business/Campaign Outcome" awards. The Institute for Public Relations, an independent foundation dedicated to The Science Beneath the Art of Public Relations™, will select one campaign for the "Best Use of Research, Measurement and Evaluation Award."
The 2017 Early Bird registration deadline is Friday, February 17 at 11:59pm ET; all entries must be received by Monday, March 13th at 11:59pm. Finalists will be notified in early April and winners will be announced during the annual Big Apple Awards ceremony on Monday, June 12th, at the Grand Hyatt New York.
For more information about the awards process or to submit an entry online, visit the 2017 PRSA-NY Big Apple Awards Online Entry Portal.
For more information about PRSA-NY or the Big Apple Awards, including sponsorship and ticket information, please visit the PRSA-NY website, e-mail bigappleawards(at)prsany(dot)org or call 212.228.7228. Questions about judging and entry requirements may also be directed to the Big Apple Planning Committee.
About the Big Apple Awards
PRSA-NY established the Big Apple Awards in 1988 to celebrate excellence in public relations. Widely regarded as one of the industry's most prestigious accolades, the Big Apple Awards honor innovative and strategic PR campaigns and projects.
About PRSA-NY
The Public Relations Society of America, New York City chapter is the industry go-to for knowledge and networking for communications professionals in the New York metro area. Established in 1947, PRSA-NY is one of the founding chapters of the Public Relations Society of America, the world's largest professional organization for public relations practitioners, and the third largest PRSA local chapter in the U.S. It serves the interests of public relations professionals working in business and industry, counseling firms, government, associations, hospitals, schools, professional services firms and nonprofit organizations. Chapter board and committee members are volunteer public relations professionals who work in the New York metropolitan area. For more information, please visit our website and follow us on Facebook, Twitter and LinkedIn.