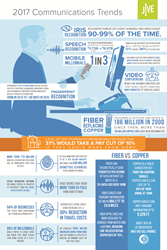 You have to make the technology easy to use and intuitive. If you do that while feeding the needs of the mobile workforce, you'll have an opportunity to really impact the marketplace.
Orem, Utah (PRWEB) February 02, 2017
Global communication industry leaders Jive Communications, inContact, and Polycom weighed in on market trends and announced their predictions on the future of Unified Communications as a Service (UCaaS). The UCaaS market has seen mass adoption by both private and public sectors, with a predicted market penetration of 41% by 2020. Current market estimates place it at USD 36 billion, and, according to a report by Grand View Research, by 2024 should reach 143 billion.
Jive, inContact, and Polycom identified integration, consolidation, and mobile applications as the future for the industry. The companies also discussed how millennials will affect UCaaS and provided recommendations for attracting and retaining the tech-savvy generation.
According to Shawn Puddester, Polycom Vice President, the mobile workforce may have the most considerable impact on the UCaaS market, pressuring providers to improve applications and user interfaces. "You have to make the technology easy to use and intuitive. If you do that while feeding the needs of the mobile workforce, you'll have an opportunity to really impact the marketplace."
"Companies will increase usage of remote employees due to cost efficiencies and better mobile communication and collaboration tools," adds Mike Sharp, Jive Chief Product Officer and COO. Sharp also predicts integrations as a catalyst for market growth. "Customers will value tighter integrations with existing systems and simplicity with their preferred UCaaS offerings."
Millennials are possibly driving the most notable advancements in the UCaaS industry. "Young adults are popular recruits for customer service jobs given their energy, enthusiasm, and empathy," said Randy Littleson, inContact Chief Marketing Officer. "Millennials have unique traits and characteristics that previous generations did not, which means companies need to leverage different techniques for hiring and managing them."
Puddester concurs and adds, "The tech-savvy generation is entering the workforce with raised expectations on the technology they use. They want the same experience in the workplace as in their personal use. And this impact will be felt by all providers."
Jive Communications, inContact, and Polycom weigh in on these and other UCaaS trends—including desktop phone usage and market consolidation—in a collaborative article. To read these predictions in their entirety, visit Jive.com.
About Jive Communications
Jive Communications, Inc. provides enterprise-grade Hosted VoIP and Unified Communications to businesses and institutions across the globe. Jive's hosted services include Jive Voice (Hosted PBX), Jive Contact Center, and Jive Video, which all run on Jive Cloud, a distributed platform built on open industry standards. Jive Cloud has been purpose-built to deliver the most reliable, powerful and economical hosted communication services available to the enterprise and public sector markets. Learn more at jive.com/products.
About inContact, a NICE company
inContact is the cloud contact center software leader, with the most complete, easiest and most reliable solution to help organizations achieve their customer experience goals. Recognized as a market leader by Gartner, IDC, Frost & Sullivan, Ovum and DMG, inContact continuously innovates in the cloud and is the only provider to offer a complete solution that includes the customer interaction cloud, an expert service model and the broadest partner ecosystem. inContact is a part of NICE (Nasdaq: NICE), the worldwide leading provider of both cloud and on-premises enterprise software solutions, helping organizations of all sizes deliver better customer service, ensure compliance, combat fraud and safeguard citizens. Over 22,000 organizations in more than 150 countries, including over 80 of the Fortune 100 companies, are using NICE solutions. For more about NICE, visit http://www.nice.com. To learn more about inContact, visit http://www.incontact.com.