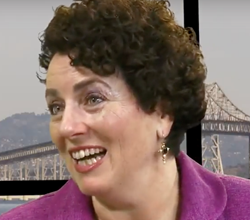 World confused by antagonism, competitive cruelty, and heralded all-mighty-dollar at cost to the environment and civility is in contrast to the role KINDNESS has in the successful business model in this decade.
Los Angeles, CA (PRWEB) February 06, 2017
Kindness as a key element for business success discussed today on Dr. Carol Francis Talk Radio with author Jill Lublin at this link:
http:// http://www.blogtalkradio.com/dr-carol-francis/2017/02/06/profit-of-kindness-business-success-model-with-jill-lublin-author\ "The Profit of Kindness" by author and business woman, Jill Lublin, brings to light a paradigm of character and business savvy which today needs to be re-examined given the Trump's documented attitude of antagonism, false accusations, and partisan favoritism his administration hurls toward business in and outside the United States. Instead, the power of kindness as key to profit margins, good branding, good will, reliable products and quality services is now given the respect economically and pragmatically it deserves through Jill Lublin's book, "The Profit of Kindness."
Contact for guest is Jill Lublin at jennifer(at)JillLublin(dot)com • Phone 619.713.6756
Book reviewers have said:
"Kindness in business is what's needed now. Jill's strategies and tactics deliver excellence. Devour and study this book, you'll be glad you did!" — John Gray, author of Beyond Mars and Venus
"The Profit of Kindness is THE book on making more money with kindness at the helm. I've known Jill many years, and with her business smarts and great heart, she's the woman who shows you how to make your business successful. — Loral Langemeier, millionaire maker, five-time New York Times best-selling author, Yes! Energy
"The Profit of Kindness is packed with so many ways to be successfulby doing what feels great, provides fulfillment and uplifts our lives and the lives of the people we serve. The guiding principles in this book will allow everyone to enjoy every interaction more while thriving in business." — Caterina Rando, publisher, Thriving Women in Business® Magazine
Join Dr. Carol Francis, Clinical Psychologist in the Los Angeles, Manhattan Beach, Palo Verdes area, in this discussion about the psychology of success. For more information, drcarolfrancis.com.