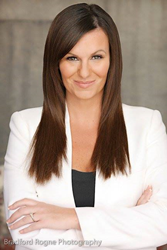 I enjoy more the researching and writing that goes into a good story. I am excited to take on new challenges and focus on writing and researching for a plethora of different clients, says Harvey-Jones
Washington, DC (PRWEB) February 02, 2017
Ovation PR & Advertising LLC has added award-winning writer and news reporter to their staff. CEO, Tracie Hovey said, "We have been working with Raychel for the past few months on different projects, so we know the talents she brings to the table. We are thrilled to have her on board. She is an excellent addition to our team." Raychel Harvey-Jones, says "Over the years I have realized that while I love being on the air, being in the public eye can have its pitfalls. These days I enjoy more the researching and writing that goes into a good story. I am excited to take on new challenges and focus on writing and researching for a plethora of different clients."
Raychel was the News Director and evening news anchor for Channel 6 in Hagerstown for many years before moving to NBC in Washington DC. "During her time in Washington County, we became friends working alongside various charity organizations together. Harvey-Jones is well respected in the community and has won many accolades through the years for her investigative work," says Ovation CEO, Tracie Hovey.
With over 75 years of experience Ovation PR is a full-service public relation and advertising firm that utilizes our expertise to create winning publicity, branding elements and community awareness campaigns for their clients.
Harvey-Jones has her M.A. in Journalism from Birkbeck University of London and a B.S. in Psychology from Bristol University. As a self-confessed weather geek, Harvey-Jones earned a Certificate of Achievement in Weather Forecasting from Penn State University. She is in the process of seeking a Law Degree at Penn State University/South Western.
" I love the variety of the work I am doing every day is different, so it's similar to the newsroom in that way. From interviewing A- list celebrities; researching local and national businesses, it keeps me on my toes. Ovation has offices in Maryland, Washington DC, and California so there are new opportunities daily. Ovation is a boutique PR company, one of the attractions for me working with this team is they know their clients, they believe in their products, and they are very personable," says Harvey-Jones
"We have landed our customers on some of the largest media outlets from the Huffington Post, USA Today, Variety and more. Raychel has already worked on a very successful campaign with "Walking Dead" actress Ann Mahoney on Body Shaming and the importance of being healthy. This reached several major online and radio publications," says Hovey.
"I am a self-confessed weather and news junkie, but I like the flexibility of working various freelance positions. It's a step towards a different career for sure but it's a path that incorporates my love of writing and brainstorming, and I honestly don't miss the alarm clock going off at 2 am, " says Harvey-Jones.
"I look for people with different skills to add to my team. Raychel brings her experience as a reporter to the table. Working with our clients to get media placements is a useful asset, and she is also always brimming with ideas. I enjoy working with her," adds Hovey.