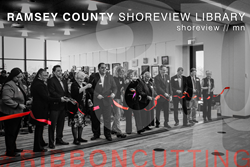 Minneapolis, MN (PRWEB) February 03, 2017
Adolfson & Peterson Construction (AP) joined the community for a ribbon cutting ceremony at the new Ramsey County, Shoreview Library. The official ribbon cutting ceremony began at 10 a.m. and was followed by a presentation by HGA Architects regarding the library's design. The Mounds View High School Orchestra provided musical entertainment in the fireplace area and Metro Ice Sculptures held an ice carving demonstration outside the library.
The new library features a warm and welcoming environment, a large children's area, a spacious community program room that seats 100, expanded teen area and study and meeting spaces. More than $50,000 worth of new materials have also been added. The new library will be open longer hours, have expanded adult and teen programming as well as state-of-the-art technology.
About AP
Adolfson & Peterson Construction (AP) is a U.S.-based, privately held firm that is consistently ranked among the top 50 construction managers and general contractors in the nation. Founded in 1946, the company has built longstanding commitments to the regions in which it operates and is known nationally for its innovative and collaborative approaches within the building industry. AP serves the education, multifamily, healthcare, commercial, municipal and senior living market segments from its offices in Charlotte, Dallas, Denver, Minneapolis and Phoenix. For more information, visit http://www.a-p.com and follow us on Facebook, LinkedIn and Twitter.