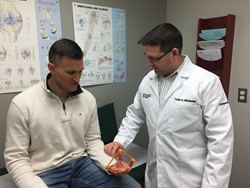 Using Hand X Band™ has not only healed the tendinitis, but they prevent it from returning!
West Chester, PA (PRWEB) February 08, 2017
Innovative X-Bandsions, LLC is announcing the release of their new Hand X Band™ Trainer after strong demand for a lighter resistance level for rehabilitation. This market includes Repetitive Motion Disorders, such as medial and lateral epicondylitis (golfers' and tennis elbow, respectively), arthritis, post-surgical, and even the fitness beginner.
In strength training, there is a well-accepted concept that for every push, there is a pull. Fitness enthusiasts would never think of training their biceps without training their triceps. That is why Tony Mauro, co-founder and co-inventor of Hand X Band™, used rubber bands to balance his grip training. He would twist them onto his fingertips so they would not slip off, then open his hand against the resistance. After years of pinching his skin, lack of proper and progressive resistance, and constant breakage, he decided, "there has to be a better way." When there wasn't, he decided to make one in Hand X Band™.
Shortly after being accepted into the sports performance market by athletes from world-record holding powerlifters to professional golfers, as well as college and professional football and baseball teams, Hand X Band™ started to receive numerous testimonials for rehabilitation of numerous disorders including lateral epicondylitis, commonly referred to as tennis elbow. One of the first to endorse Hand X Band™ use as a treatment for elbow tendinitis was the world-renowned fitness expert, Jim Stoppani, PhD. He was suffering so badly from tendinitis that could not even hold his laptop, and had to take time off from training. He recently told his greater than a million followers, "Using these bands has not only healed the tendinitis, but they prevent it from returning so I highly, highly, highly recommend anyone who trains get Hand X Band™ not as rehab but as prehab as well."
Turning to the rehabilitation market, Todd Michener, MD, a practicing orthopedic surgeon in Chester County, Pennsylvania stated, "I have found Hand X Band™ to be an excellent option for the treatment of lateral epicondylitis. It serves as an alternative way to even out the muscle imbalances in the elbow through eccentric strengthening exercises of the extensors, subsequently promoting blood flow to the area of interest which then stimulates a healing environment for the degenerative process."