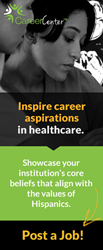 The HHL Career Center provides a comprehensive portal that offers the ability to engage more effectively with Hispanic and Latino candidates looking specifically for jobs in healthcare
(PRWEB) February 06, 2017
With a rapid rise in the U.S. Hispanic population, top healthcare companies increasingly realize the need to hire "culturally competent" employees to meet the needs of Latino patients. However, while Hispanics comprise more than 17 percent of the population according to the U.S. Census Bureau, Latinos remain significantly underrepresented across the healthcare industry.
To help organizations more successfully navigate this gap, HealthyHispanicLiving.com's new online Career Center offers powerful tools to help healthcare companies find and engage with top Latino talent.
"The HHL Career Center provides a comprehensive portal that offers the ability to engage more effectively with Hispanic and Latino candidates looking specifically for jobs in healthcare," says Robin Clayton, the Director of Talent Acquisition with City of Hope. 
By visiting the Career Center tab at HHL – the first online educational platform that encourages Latinos to live healthier lives – organizations can easily set up a company microsite portal which lets them showcase how their corporate values align with the needs and values of Hispanic professionals. They can also post job listings, company videos and articles, and interact directly with career seekers who visit the site.
Enhanced relationship engagement
The job posting fee is waved when organizations opt for a consulting package designed to help employers engage more deeply with their target audience, and thus gain a competitive edge. Companies will benefit by creating more authentic relationships with Hispanic job seekers by effectively showcasing employee stories, core values, views on diversity, and information about their workplace culture via the microsite portal. The package is customizable and can include:

Complementary job postings per month, which show up first when job applicants search the HHL job database powered by Indeed.com
Custom articles that feature the company's subject matter expertise, written to inspire and engage Hispanic job applicants, and help companies build their brand with thought leadership
Messaging and private chat sessions to answer questions and elevate engagement with talent regarding published articles and job postings
Ability to promote your company's next online or onsite event and post related videos and photos
For job seekers, HHL provides a one-stop location to intuitively search thousands of jobs and easily apply for positions online, build their careers with online training, and read the latest career news. They can also interact with fellow Hispanics and mentors who have built successful healthcare careers.
To learn more about HHL Career Center microsites and consulting, contact Sandy Sickler at Sandy(at)healthyhispanicliving.com
About Healthy Hispanic Living
Healthy Hispanic Living is an in-culture content marketing and career development platform that enables medical institutions to provide meaningful solutions to healthcare challenges and build longstanding relationships with the Hispanic community. HHL engages Hispanics to share their personal stories to encourage the community at large to become healthy-living advocates for preventive care. Concurrently, HHL promotes career development so that Hispanics can play a more influential role in the healthcare industry to improve how diverse communities are served. For more information, visit http://www.healthyhispanicliving.com