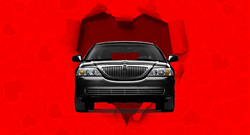 Women say George Clooney would be their top Valentine's dream date; men say Scarlett Johansson is top pick, with Beyonce coming in last.
New York, NY (PRWEB) February 02, 2017
GroundLink® Surveys Lovers about Valentine's Day;
80% Will Celebrate at Home or Go Out Locally and Less Than 20% Will Travel
Women Pick George Clooney as Top Valentine's Dream Date; Men Pick Scarlett Johansson over Beyonce and others
As Americans scurry to make last-minute plans to celebrate Valentine's Day, GroundLink®, a leading tech-enabled black car service, surveyed nearly 200 travelers on their opinions on the romantic holiday. Most of those surveyed (62 percent) will spend the same as last year on their significant other. While, 32 percent will spend more than they did last year. Only six percent will spend less than last year. Slightly more men (18 percent) than women (15 percent) will spend more than they did last year on their sweetheart. Despite nearly half (47 percent) of respondents saying that the most romantic Valentine's Day gift is a weekend away, only 11 percent have plans to go away for a long weekend. Nearly half (46 percent) of those surveyed will remain home to celebrate. This was followed by 36 percent who will celebrate by going out locally, with the remaining seven percent citing other plans such as business travel or not celebrating at all.
Nineteen percent of those surveyed said a dinner at an expensive restaurant is the most romantic Valentine's Day gift, and another 18 percent said a candlelit dinner at home is the most romantic gift. Six percent said chocolate is the way to their heart. When asked what the worst Valentine's Day gift they ever received was, more than a third (33 percent) said it was "nothing." Others cited such failed Valentine's gifts as a divorce, a vacuum cleaner, a single balloon, a football, a tacky necklace and 50 "cheap" greeting cards.
Of those going out locally, most (39 percent) will drive their own car, followed by 27 percent who will hire a car service or limo company to take them to their romantic destination. Thirteen percent will hail a taxi with their sweetheart and another 13 percent will opt for more economical public transportation. Seventy percent of men who are planning to reserve a car service on Valentine's Day said they plan to book a luxury car – "something special but not too extravagant." Meanwhile, 45 percent of women who will book a car to woo their sweetheart said they will go with "the most economical option as they'd rather splurge on dinner or a gift." Four percent of women will opt for a stretch limo, saying "nothing is too extravagant for my sweetheart." Only two percent of men will go as far as to splurge on a stretch limo.
When it comes to long distance love, more than half (55 percent) of those surveyed only travel as far as their own city or state to spend Valentine's Day with their significant other. Twenty-one percent are willing to go out-of-state, and another 25 percent say they will travel "anywhere in the world" in their quest for love. Contrary to popular belief, both men and women plan the same amount of time in advance for Valentine's Day. The majority (67 percent) of both men and women plan a week or less in advance. Twenty-eight percent are long-term planners and start the planning process months in advance. Only six percent admit to procrastinating and make their Valentine's Day plans the same day.
When asked for their "celebrity dream Valentine's date", 39 percent of women surveyed said their heart belongs to George Clooney, followed by Chris Hemsworth (23 percent) and Dwayne Johnson (six percent). Thirty-five percent of men said Scarlett Johansson would be their "celebrity dream Valentine's date," followed by Charlize Theron (14 percent), Chris Hemsworth (11 percent), George Clooney (10 percent) and Beyonce (seven percent).
About GroundLink
GroundLink is a tech-enabled provider of executive black car service in major cities throughout the world. Offering the industry's only on-time guarantee, GroundLink focuses on duty of care, with professional drivers who are screened, properly licensed and fully insured. GroundLink offers a multiple booking platform for its consumer and corporate clients that includes its website (http://www.groundlink.com), its iPhone or Android app, and its 24/7 Customer Service Center (855.463.7150). GroundLink has offices in North America and Europe, with its headquarters in New York, NY. Connect with GroundLink on Twitter @GroundLink and on
Facebook.com/GroundLink.
# # #