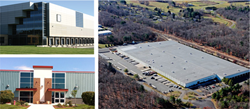 Boston, MA (PRWEB) February 06, 2017
Hackman Capital Partners LLC and Calare Properties, Inc., announced today the sale of 10 properties, primarily warehouse-distribution facilities, to Winstanley Enterprises, LLC. The properties, which total 2,942,880 square feet, are located primarily in northern Connecticut and Southern Massachusetts. The seller is a joint venture formed by Hackman Capital Partners, Calare Properties and KBS Real Estate Investment Trust.
Brian Fiumara and Brad Ruppel of CBRE National Partners represented the seller.
"We're pleased the properties were such a good, strategic fit for Winstanley," said Michael Hackman founder and CEO of Hackman Capital Partners. "The partnership initially acquired the assets in 2007 as part of a larger industrial portfolio. We repositioned the properties and attracted premier tenants. We're thrilled with the results."
Toy maker LEGO Systems, Home Depot and Coca-Cola are among the major tenant companies that will continue occupying the buildings.
More about Winstanley's Purchases:
Massachusetts properties

Chicopee, MA, 1040 Sheridan Street, a 74,500-square-foot distribution facility, 100% leased
Chicopee, MA, 1045 Sheridan Street, a 62,000-square-foot distribution center, 100% leased
Westfield, MA, 1111 Southampton Road, a 652,000-square-foot distribution facility, 100% leased
Connecticut properties

Bloomfield, CT, 170 Highland Park Drive, a 449,000-square-foot lumber warehouse, 100% leased
Enfield, CT, Enfield Business Park:
300 Shaker Road, a 445,597-square-foot distribution facility, 100% leased
99 Print Shop Road, a 37,580-square-foot medical manufacturing building, 100% leased
100 Print Shop Road, a 587,736-square-foot manufacturing facility fully occupied, 100% leased
555 Taylor Road, Lego's 105,483-square-foot office, 100% leased
561 Taylor Road, Lego's former 9,173-square-foot, day-care facility, now 100% leased to a third party.
Plainfield, CT, 85 Moosup Pond, 530,000-square-foot distribution building, recently vacated
More About Hackman Capital Partners
Hackman Capital Partners is a privately-held, real-estate investment and operating company that focuses on the acquisition of commercial properties in major U.S. markets and other real estate that can be repositioned for higher and better uses. Founded in 1986, Hackman Capital has conducted more than $3 billion in real estate transactions across 41 states—having owned, through affiliated entities, over 400 buildings totaling 35-plus million square feet and 24,000 acres of developable land. The company is based in Los Angeles, California with offices in Columbus, Ohio, Chicago, Illinois and Boston, Massachusetts. It currently employs 82 people and manages approximately 300 major tenant companies nationwide, including Home Depot, Staples, Coca Cola, Lowe's, Sony and Lego. For more information, visit hackmancapital.com.
About Calare Properties
Founded in 2003, Calare is a real estate operator focused on acquiring and managing warehouse, manufacturing, research and flex/office assets primarily in the Northeast. The company's experienced team and fully integrated operating platform provide investment, asset management, leasing and property management expertise to drive performance at all stages of the investment process from acquisition through disposition. Calare has led the acquisition of more than 17 million square feet of properties, representing $800 million in real estate transactions through funds, direct deals and a multi-asset portfolio. For more information, visit calare.com.
About Winstanley Enterprises
Winstanley Enterprises is a real estate development and investment company that works across a wide range of asset classes including office, laboratory/biotech, industrial, retail, medical office and residential. Founded in 1973 and based in Concord, Massachusetts, Winstanley has acquired and developed more than 100 properties comprising more than 12 million square feet. For more information, visit winent.com