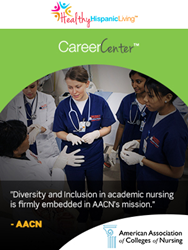 Preparing a culturally diverse nursing workforce is essential to meeting the healthcare needs of the nation
Rancho Santa Margarita, CA (PRWEB) March 06, 2017
In today's healthcare job market less than 5 percent of nurses identify as "Hispanic." Yet, Hispanics and Latinos make up more than 17 percent of the U.S. population. As the American populace grows increasingly Hispanic, Latinos remain significantly underrepresented across many healthcare job categories.
To help close the gap and provide the "cultural competence" that organizations will increasingly need to succeed, HealthyHispanicLiving.com (HHL) designed an online one-stop Career Center site where visitors can search thousands of healthcare jobs – and showcase top healthcare companies looking for Latino talent.
This month, HHL is proud to announce the American Association of Colleges of Nursing (AACN) as the latest organization to partner with the career hub. Representing more than 800 schools on nursing nationwide, AACN is the collective voice for academic nursing, serving as the catalyst for excellence and innovation in related education, research, and practice. The national association based in Washington, DC is also a primary advocate for advancing diversity and inclusion within academic nursing.
"Preparing a culturally diverse nursing workforce is essential to meeting the healthcare needs of the nation," says Dr. Deborah Trautman, AACN President and CEO. "To better meet this goal, AACN is partnering with HealthHispanicLiving.com to help stimulate interest in nursing careers within the Latino community by providing career information and professional development opportunities to graduate nursing students and future leaders of the profession."
Contributions by the nursing community can be enhanced when healthcare workers are sensitive to the cultural needs and values of those they serve.
Custom portal with tools to attract top talent
Unlike typical job listing services, the HHL Career Center provides healthcare companies and organizations with an online portal that allows job seekers looking specifically for medical and health opportunities to search thousands of positions across the nation. The portal is branded to each healthcare organization partner, and provides tools to showcase the organization's values to help attract talent.
By visiting the AACN portal, job seekers can learn more about nursing education, and cultural competence. They can understand more about the organization's values, and how those values align with their own.
Users can also interact with AACN volunteer mentors at the microsite portal. They can view videos on each mentor's page, as well, and e-mail these leaders directly to start the conversation. Likewise, they can ask questions about specific job postings, giving organizations an easy way to interact with talent in real time, if desired. Visitors may apply for positions effortlessly with a few clicks.
To learn more about AACN and related job posts, visit the AACN microsite. Healthcare organizations interested in learning more about partnering with the Healthy Hispanic Living Career Center hub should contact Sandy Sickler at sandy(at)healthyhispanicliving.com or at 949-842-6204.
About AACN:
The American Association of Colleges of Nursing (AACN) is the national voice for America's baccalaureate-and higher-degree nursing education. AACN serves as the catalyst for excellence and innovation in nursing education, research, and practice. For more information, visit http://www.aacn.nche.edu
About Healthy Hispanic Living:
Healthy Hispanic Living is an in-culture content marketing and career development platform that enables medical institutions to provide meaningful solutions to healthcare challenges and build longstanding relationships with the Hispanic community. HHL engages Hispanics to share their personal stories to encourage the community at large to become healthy-living advocates for preventive care. Concurrently, HHL promotes career development so that Hispanics can play a more influential role in the healthcare industry to improve how diverse communities are served. For more information, visit http://www.healthyhispanicliving.com