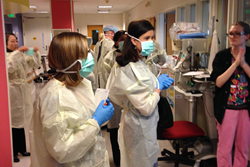 IPI's program encourages learners to challenge assumptions and to maintain a questioning attitude.
Boston, Massachusetts (PRWEB) February 15, 2017
The Institute for Pediatric Innovation ("IPI") is proud to announce that they have been the recipient of a pre-seed grant from the New England Pediatric Device Consortium ("NEPDC"). The award will go to further refinement and development of a novel alcohol wipe, aimed at reducing central line-associated bloodstream infections ("CLABSIs"). Expressing NEPDC's continued support of the project, Scott Holson, Project Leader in Business Development reported, "NEPDC is excited to work with the team and help move this innovation closer to market and clinical use."
The new wipe has been developed through IPI's Clinical Innovation Catalyst Program(TM) ("catalyst program"), which is run collaboratively with four pediatric hospital partners: Lucile Packard Children's Hospital Stanford, University Hospitals Rainbow Babies and Children's Hospital, Texas Children's Hospital, and Shriners Hospital for Children – Northern California.
The wipe was one of four products developed in the 2015-2016 catalyst cycle aimed at reducing CLABSIs in hospital settings.
When a patient requires regular intravenous treatment, such as for dialysis or administration of frequent or large doses of medication, a central line is often used. This is a catheter that is inserted into a vein and run into the superior vena cava, the main vein carrying blood from the body into the heart. One end of this tube extends outside the body with the hub, or access point, attached for medication or dialysis administration.
A CLABSI is a bloodstream infection resulting from pathogens entering the bloodstream through the central line two or more days after it is placed.
Every time the catheter is accessed is a risk potential for CLABSIs, so the hub must be sanitized each time, usually with an alcohol wipe. Although every hospital has procedures for hub disinfection, it is up to the clinician to determine if it has been adequately cleaned.
IPI's novel alcohol wipes take the guesswork out of sanitizing the hub by indicating when it has been adequately disinfected.
The CDC estimates about 41,000 CLABSIs strike patients each year, and a study by JAMA Internal Medicine found that each infection costs a hospital about $46,000, more than any other hospital-acquired condition (HAC). Pediatric patients are at higher risk for CLABSIs than adults because they have a hard time sitting still while their lines are accessed, they put things—including the central line—in their mouths, and they wear diapers, where the line may occasionally end up.
Due to the prevalence of CLABSIs, the condition was the focus of IPI's 2015-2016 catalyst program cycle. The catalyst program is a professional education experience for bedside clinicians in pediatric settings.
Pediatric clinicians and caregivers often need to adapt and improvise medical devices, medicines and materials not designed for children but needed for day-to-day patient care. This is because most companies have not considered the pediatric market viable. The absence of medical devices and materials genuinely optimized for treating children limits clinicians' ability to eliminate certain HACs.
The catalyst program aims to address this gap. Over the course of four workshops, participants from the partner hospitals learn the skills for evaluating clinical problems and developing novel or innovative devices to counteract them. They deeply study a selected HAC, define novel product designs, and develop the case the IPI uses to align with medical device companies to bring them to fruition. As one former participant said, "IPI's program encourages learners to challenge assumptions and to maintain a questioning attitude," while another related that the program "encourages brainstorming and [the] development of new ideas."
Participants from each of the four hospitals played a tremendous role in the production of the four devices developed through the 2015-2016 catalyst cycle. Patent protection is being pursued to protect the ideas, and discussions are underway with potential commercial partners to bring the devices to market.
The 2016-2017 catalyst program cycle's focus is unplanned extubations. This is an instance when a patient has a tube inserted into their trachea for breathing assistance and the tube becomes dislodged before clinicians intend to remove it. We look forward to seeing what product ideas come from this focus. For more information on the Institute for Pediatric Innovation and the Clinical Innovation Catalyst Program, please visit pediatricinnovation.org.
###