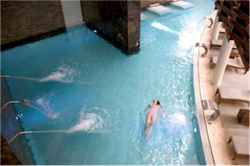 Puerto Vallarta, Mexico (PRWEB) February 07, 2017
The Grand Velas resorts in Riviera Maya, Riviera Nayarit and Los Cabos announce SE SPA by Grand Velas, a new spa concept drenched in Mexican culture and inspired by the changing pattern of the seasons. Meaning 'one' in Aztec, the word SE was chosen by world renowned spa consultant Diana Mestre to symbolize the human journey to self-discovery and renewal. Following the changing pattern of the seasons, each of the award-winning spas will follow a specific wellness path represented by a unique totem, in honor of the ancient Mayan and Aztec traditions.

SE SPA revolves around nature and the four seasons, providing spa guests with subtle changes in flavors, aromas and other elements each season to create new experiences.
RENEWAL - In February, March & April, SE SPA celebrates renewal and the creation of our being. Floral scents such as lavender, jasmine and neroli (bitter orange) will be prevalent throughout.
JOY - In May, June and July, the body is preparing for change. Spa treatments are inspired by summer aromas, steering towards citrus, orange blossom, verbena and lime.
INSPIRATION – In August, September and October, it is time to observe ourselves and implement processes for improvement. The autumn menu revolves around herbal tones and scents such as rosemary, eucalyptus and mint.
INTROSPECTION – In November, December and January, we must connect with the deepest part of our being. Cedar, incense and cinnamon characterize the winter spa menu.
Each of the spas follow a specific wellness path represented by a unique totem.

Grand Velas Los Cabos – The Path of Introspection and Renewal of Your Being - The Dragonfly
Guests are invited to experience a full revitalization of their body, mind and soul at SE SPA by Grand Velas in Los Cabos. An authentic re-interpretation of luxury and well-being based on age-old rituals and treatments, the spa menu offers over twenty different treatments organized into Ceremonies.
Embodying the concept of renewal, the dragonfly symbolizes the virtue of living life in the moment and to the fullest. They are creatures of the water which symbolize the relationship with the subconscious and invitation to the mind to dream. It is also a creature of the wind. This represents change, and with its iridescent wings, sensitive to the breeze, it opens our consciousness; guiding us where the wind blows to welcome the changes in our life. The dragonfly carries meanings of prosperity, love, success, victory, strength and courage.

Grand Velas Riviera Maya – The Path of Wellbeing and Happiness – The Hummingbird
Defining a style and a way of life, SE SPA by Grand Velas in Riviera Maya invites guests to a sensorial experience where water, light, aromas, flavors and textures converge and unforgettable memories are born. Each spa path is enhanced by a specialty tea pairing, paying homage to the ancient curative traditions of Mexico that work to balance and harmonize the body, mind and soul.
Embodying freedom, the hummingbird represents the delicate balance between spirituality, beauty and physical wellbeing. According to Mayan legend, the hummingbird flies free in time, carrying dreams of love, hope, and happiness for all people.

Grand Velas Riviera Nayarit – The Path of Transformation – The Butterfly
At SE SPA by Grand Velas in Riviera Nayarit, guests can enjoy treatments focused on achieving a full metamorphosis arising from the reconnection to the genuine inner-self. A sanctuary of wellness, tranquility and beauty, the spa immerses guests in healing rituals designed for lightness of spirit, vitality of body and freedom of mind.
Representing change, the butterfly is highly regarded by Pre-Hispanic populations as a symbol of transformation and evolution in life. An indigenous legend says that when one wants to wish for happiness and to make desires reality, they should whisper the request to the butterfly and then release it. In gratitude, she will rise to the highest of the heavens, and the wish will be granted in appreciation of her freedom.
The Spas at Velas Resorts have won numerous industry awards, including Most Excellent Spa Hotel by Condé Nast Johansens, Virtuoso's Best Spa in the World, Trip Advisor Traveler's Choice Award for Best Spa Hotel, a SpaFinder Readers' Choice, and Travel + Leisure's Best Spas, among others.
For more information on SE Spa by Grand Velas, visit http://www.luxuryspamexico.com. For more information or reservations at Grand Velas Resorts, please call 1-888-407-4869 or visit http://www.grandvelas.com.
About Grand Velas Resorts:
Offering unparalleled all-inclusive experiences, Grand Velas Resorts in Riviera Maya, Riviera Nayarit and Los Cabos have earned more than 43 AAA Diamonds, including the prestigious Five Diamond Award. Other esteemed international awards for their services and facilities include Virtuoso's "Best Spa", Conde Nast Johansens' "Most Excellent Resort" and "Most Excellent Spa Hotel" and the American Academy of Hospitality Sciences' 5 Star Diamond Award. Properties include Grand Velas Riviera Nayarit, an all-suites and spa resort located just 15 minutes north of Puerto Vallarta on Banderas Bay, and Grand Velas Riviera Maya, located five minutes from Playa del Carmen, with jungle and beach settings. Opened December 20, Grand Velas Los Cabos on Mexico's Baja Peninsula offers the next generation of all-inclusive amenities and facilities with dramatic ocean views and unique spaces infusing every area of the resort. Grand Velas Resorts feature spacious accommodations, spas, a unique culinary experience at a selection of restaurants, 24-hour in-suite service, fitness centers, personal concierge service, state of the art conference centers, extensive family programs, fully stocked mini bar and more. Grand Velas Resorts are operated by Eduardo Vela Ruiz, owner, founder and president of Velas Resorts, with brother Juan Vela by his side, vice president of Velas Resorts. http://www.grandvelas.com.