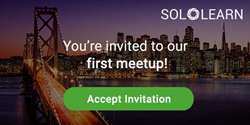 SoloLearn is the largest and fastest growing community of mobile code learners.
San Francisco, CA (PRWEB) February 08, 2017
SoloLearn, mobile platform for learning to code, is organizing its first-ever user meetup at Factory 1000 in SF on February 9th at 6:00pm. With the Snapchat generation, just about everything is moving to mobile, including learning how to code. SoloLearn has built the first large scale userbase of over 4 million that learns to code and interacts exclusively through their mobile phones. This meetup will showcase some amazing user stories, and we hope you will join us to experience the passion and fun that are motivating forces behind SoloLearn.
As this will be the first major public event for SoloLearn, we'd be happy to give media representatives free seats to see how mobile is disrupting the hottest area in education today-- coding. Come have a drink and see why SoloLearn has become the primary coding destination for anyone and anything coding.
About SoloLearn
SoloLearn is the world's largest and fastest growing community of mobile code learners. Recently cited by Mattermark among the fastest growing pre-Series A startups, SoloLearn currently has over 4M profiled users that have doubled their engagement in the last few months. The rapid growth has been earned thanks to global user satisfaction; in other words, no paid marketing to date.
The apps have been featured by Google worldwide. Currently, eleven programming disciplines are taught on all major platforms. Every day, SoloLearners complete over one million quizzes and compile millions of lines codes on their mobile devices.