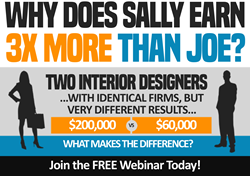 It turns out there can be only one difference between the top earning interior designers, and the rest who merely get by.
Dallas, TX (PRWEB) February 08, 2017
It turns out there is only one possible answer as to why one interior designer earns 3X another, despite apparently identical firms. That answer will be revealed in a live web conference on February 14 with university professor and design business expert, David Shepherd.
Interior designers may learn more and sign up for a complimentary web conference by clicking on the following link. The webinar will be held at noon, Central time, Tuesday February 14. There is no cost to attend.
David Shepherd, founder of The Edge, will personally lead the webinar. David is a best-selling author, university professor, and long-time coach and consultant to interior designers. He previously founded the Business of Design Conference, the largest in the industry, and The Best Practices Network for design firm principals.
"I've worked with countless designers, including those running 20-person firms and those working on their own," Shepherd said. "And even with my rigorous approach to finance and strategy, I sometimes wondered what makes the difference between two firms that appear identical…except on the bottom line.
"It turns out the answer is fairly simple," Shepherd continued. "And that's why I developed the case study looking at two designers, Sally and Joe. Their firms look just alike, but Sally earns about $200,000 a year, while Joe earns only about $60,000. I look forward to explaining what makes the difference to designers on February 14."
In this web conference, David will lay out specific case studies that will prove his point. Designers who attend will learn:

How their initial goal or dream becomes obscured by the flurry of tiny tasks;
How a well-meaning business model gets turned upside down over time;
Why the best clients will choose you…and choose to pay you more;
How to confront reality and close the gaps in the areas that must be mastered;
How to list and rank the specific actions that will have the greatest impact
Designers will also understand whey they must avoid getting stuck inside the 'donut hole.' That, and the roller coaster nature of sales in this profession mean they almost always have too much…or too little overhead. That's why there's only one possible answer to the question, 'What makes the difference?'
This complimentary, live web event will be limited to the first 100 designers to join. Those wishing to attend should sign up early, and "join" the event 10-15 minutes early on the actual event date.
Attendance at this web conference is exclusively for members of The Edge—an organization providing best business practices to interior designers. However, designers can join The Edge at no cost. After joining The Edge, designers will instantly enjoy:
Attendance at the "Sally and Joe" live web conference, and future events;
A complimentary e-book entitled, "Say Your Strategy," with instructions on how to distill your competitive advantage down to only 35 words, and 40 real-world examples from other design firms;
A 10-video tutorial on building a profitable and sustainable design firm. (David Shepherd's "8 Steps" course)
Multiple additional articles, special reports, and other content built right into their Designer Dashboard
The Edge also offers additional benefits such as live coaching sessions, a print newsletter, and audio CDs with paid membership levels that designers may learn more about and consider when visiting: http://www.designingprofits.com.
------
The Edge is a membership organization designed to provide the best business practices to interior design professionals. Founded by university professor and design industry coach and consultant, David Shepherd, The Edge offers a complimentary level, and two paid levels of membership. Members may upgrade, downgrade, or cancel their memberships at any time. For information on The Edge and the various membership options, please visit http://www.designingprofits.com.
The Edge is a service offered by Designing Profits, Inc., a Texas corporation founded in 2002. All rights reserved.