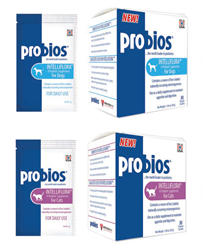 Menomonie, Wis. (February 2nd 2017) (PRWEB) February 03, 2017
Probios Intelliflora is a probiotic powder supplement, in single dose 1 gm packets, that are intended for daily use to help support normal GI health in dogs and cats. Probios Intelliflora joins the Probios family of products, the world's most widely researched and tested animal health probiotics.
Probios Intelliflora contains 200 million colony forming units (CFU) of four strains of beneficial bacteria (Enterococcus faecium, Lactobacillus acidophilus, Lactobacillus planetarium and Lactobacillus casei). Probios Intelliflora offers pet owners a simple and convenient way of supporting balanced gut microflora while maintaining normal immune system function.
Probios Intelliflora is available through major animal health distributors. Please visit http://www.probios.com for further information.