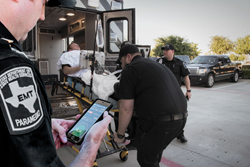 In cases where a mobile care coordination platform was used ... case times for Acute Ischemic Stroke patients were reduced by an average of 40 minutes.
Bozeman, MT (PRWEB) February 03, 2017
Currently in the United States, someone suffers a stroke every 40 seconds, and each of those cases relies on getting treatment as fast as possible in order to assure best chances for recovery. Expediting care for these critical patients requires smooth communication between first responders in the field, the emergency room staff, and the specialty stroke team. Unfortunately, this delicate relay is not always well executed, as care teams are patching together archaic technologies such as pagers, faxes, emails, call lists, and other inefficient communication methods.
Results from a study recently published in the Journal of Stroke and Cerebrovascular Diseases offer a promising solution to these communication hurdles. The study, which looked at 85 stroke patients over an 18-month period at the Good Shepherd Health System, found that in cases where a mobile care coordination platform was used in place of traditional communication technologies, case times for Acute Ischemic Stroke (AIS) patients were reduced by an average of 40 minutes. This result is a 46% improvement over previous times. Furthermore, there were 3.7 times more cases that achieved the national benchmark of less than 60 minutes for door-to-needle time.
The platform, known as Pulsara, can be installed on any smart phone or tablet device. With the tap of a button, a paramedic in the field who recognizes a stroke can notify everyone on the hospital team that an ambulance is on its way with the critical patient. As the paramedic enters more information, such as the patient's medical history and vital signs, every member of the team is instantly updated. Then, members of the care team can securely message one another without worrying about violating HIPAA regulations. After the case is completed, all members of the care team get feedback so they can see what went well and what can be improved upon for future cases.
"As a clinician, I know how disheartening it can be to see a patient struggle because of our own inefficiencies," said Robert Dickson, MD, an emergency physician, and author of the study. "That's why we are so in need of solutions like Pulsara. Results like these offer enormous promise for future patients and reinforce our commitment to supporting evidence-based healthcare."
The functionalities Pulsara offers also help care teams meet the 3 principles outlined by the American Stroke Association for developing better systems of stroke care: effective communication among agencies, services, and providers; an organized and standardized approach to acute stroke care at each facility; and performance feedback for continual improvement.
****
ABOUT GOOD SHEPHERD HEALTH SYSTEM:
Located in East Texas, the Good Shepherd Health System includes two medical centers, emergency services, immediate care facilities, outpatient services, a health and wellness facility, and the Institute for Healthy Living. Their diverse network of care providers focuses on patient-centered care in efforts to uphold their mission to improve the health of the communities they serve. Good Shepherd is committed to providing excellence in health care for every patient they serve. More information can be found at http://www.gsmc.org.
ABOUT PULSARA:
Pulsara is a digital healthcare corporation that focuses on using mobile technology to enhance patient treatment time outcomes by improving communication and care coordination through the entire healthcare system. Pulsara's mobile applications STOP STROKE and STOP STEMI improve communications between the teams caring for stroke and heart attack patients, leading to faster treatment and likely better outcomes. Every clinician – from paramedics to emergency department staff to neurology and cardiology teams – is on the same page with a simple tap. For more information, visit https://www.pulsara.com.