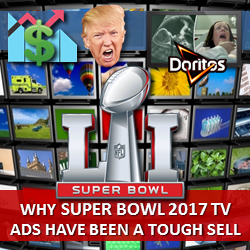 The hesistancy brands are demonstrating, whether brought on by President Trump, higher costs, or brand protection, has had little impact on projections of a healthy TV ad industry in 2017
San Diego, CA (PRWEB) February 03, 2017
The 2017 Super Bowl is just a few days away yet, incredibly, the Fox TV Network has yet to sell a handful of advertising spots for the year's most-watched TV event.
At $5 million for a 30-second spot, the cost of a Super Bowl ad has more than quadrupled since Fox began airing the NFL championship game in 1997. While this year's steep price tag did not impede some advertisers – several major automakers and Mars Inc., owner of Skittles and Snickers, bought spots as soon as they were available in upfront sales – the higher fees appear to have impacted other advertisers.
"People marvel at the $5 million advertisers are paying for a commercial, but they don't realize that the price paid to Fox is just part of the total expense and the total risk," said Scott Kowalchek, founder and President of DRTV media buyer DirectAvenue. It's a fact – the cost to produce a dynamic TV spot – especially one that's worthy of a very attentive Super Bowl audience – can easily exceed $1 million. In addition, said Kowalchek, a national TV ad buy for TV's premiere event is almost always accompanied by a huge digital investment, including a large media buy on Facebook, YouTube, Snapchat, or some other online platforms. Bottom line: a company can easily spend more than $10 million on a Super Bowl TV ad campaign.
Another factor prompting some advertisers to hold off on investing in this year's big game – the increased risk to a company's brand, especially when an advertising blunder can spread instantly through social media. Last year, Doritos delivered the most controversial commercial of the 2016 Super Bowl, which some critics called "chilling", because it featured a fetus in its mother's womb craving a Doritos chip held by its father during an ultrasound. After the commercial ended with the ultrasound showing the baby's premature birth, an avalanche of criticism followed in social media. The Doritos controversy reminded advertisers that the decision to broadcast a cutting edge commercial during such a huge event can sometimes backfire with public scrutiny. Advertisers can find themselves at the heart of a negative PR nightmare. Frito Lay, the owner of the Doritos brand, decided to not buy commercial time in the 2017 Super Bowl, ending a 10-year run as a sponsor of the event.
Finally, uncertainty about the administration of President Donald Trump appears to have had a chilling effect on TV advertisers. For the same reasons the stock market has fluctuated in recent days, brands have been hesitant to commit marketing funds to such a huge event until there is more certainty in the U.S. economy and Trump's presidency. In the TV advertising industry, uncertainty is a strong psychological motivator, and it appears to have had an impact on how some companies view the 2017 Super Bowl.
"Fortunately, when you look at the arc of TV advertising, the 'big picture' of our industry, what we're seeing with Super Bowl ads, while fascinating, is just a blip," said Kowalchek. "The hesitancy brands are demonstrating, whether brought on by President Trump, higher costs, or brand protection, has had little impact on projections of a healthy TV ad industry in 2017".
While global digital advertising is expected to top traditional TV advertising in for the first time this year, the two formats, combined, will generate an incredible $388 billion in total ad sales. Digital and linear TV ad sales in 2017 will, in fact, dominate more than 70% of the global ad market.
"By kickoff, I'm sure Fox will sell all their available spots for the Big Game," said Kowalchek. Despite temporary concerns about a Trump presidency, advertising fees, and brand risk, Kowalchek believes, as do many industry veterans, that TV advertising is still the greatest investment for companies in 2017. Even more of a sure thing, he says, than a victory by the New England Patriots this Sunday.